Revisiting the classic sounds of Adult Contemporary…
Sang Regina, sang! Almost 30 years later, and this track still gives you chills. Is it what Love sounds like? Multi-gifted singer-songwriter Regina Belle belts out her astonishing range on "This Is Love". From her 1989 album Stay With Me, this groove symbolizes not only a description of the art of love, but an array of vocal sensation that can only be mastered by a true musical pioneer. Regina's career, artistry, and those vocals display her dynamic craft.
The album made its way to No. 1, atop the R&B/Hip-Hop Albums chart, reaching Gold status the following year. Get Grown with this record, here Fam. A true love song for the ages.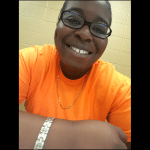 Mattie Brown is a Music Journalist, specializing in reporting and producing content for the R&B genre. Residing in Decatur, GA she obtained her A.A in Journalism from Georgia State University-Perimeter College. Mattie has always had a passion for writing, designing and editing. While pursuing her B.A at Clayton State University, her musical passion took her to new heights. "My love for R&B has kind of outweighed everything", she states. She has truly taken her craft and used it to her full advantage. Mattie joined the team of Grown Folks Music in the summer of 2017 as their Music Journalist and is continuing to pursue her education.