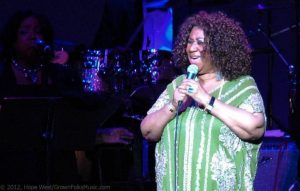 Detroit's finest. America's best. A singular sound and a singular name – Aretha.
Grown Folks Music mourns the death of Aretha Franklin, but would like to celebrate her life, of course, with the music.
To be specific– a spotlight on some of her duets [in no particular order]– some you may know, some you forgot you knew, and hopefully a few that will surprise you. Hopefully, all will delight you.
Enjoy this celebration of this vocal ambassador who left an indelible mark and made an immeasurable contribution. She ministered in song to church congregations and presidents. She transcended genre and bridged the gap between generations.
With Luther…
With Annie Lennox/The Eurhythmics…
With Fantasia…
With Michael McDonald…
With Ray Charles…
With George Benson…
With Whitney Houston…
With Mary J. Blige…
With George Michael…
With Levi Stubbs…

Truly the Queen of Soul, Aretha Franklin possessed a voice that always commanded "Respect". Aretha Louise Franklin was born March 25, 1942 in Memphis, Tennessee. Franklin began her career as a child singing gospel at New Bethel Baptist Church in Detroit, where her father, C. L. Franklin, was pastor. In 1960, at the age of 18, she embarked on a recording career, recording for Columbia Records but only achieving modest success. Following her signing to Atlantic Records in 1967, Franklin achieved commercial acclaim and success with songs such as "Respect", "(You Make Me Feel Like) A Natural Woman", "Spanish Harlem" and "Think".
Franklin eventually recorded a total of 112 charted singles on Billboard, including 77 Hot 100 entries, 17 top ten pop singles, 100 R&B entries and twenty number-one R&B singles, becoming the most charted female artist in the chart's history. Franklin has won a total of 18 Grammy Awards and is one of the best-selling musical artists of all time, having sold over 75 million records worldwide. Franklin has been honored throughout her career including a 1987 induction into the Rock and Roll Hall of Fame, in which she became the first female performer to be inducted. She was inducted to the UK Music Hall of Fame in 2005. In August 2012, Franklin was inducted into the GMA Gospel Music Hall of Fame. Franklin is listed in at least two all-time lists on magazine, including the 100 Greatest Artists of All Time; and the 100 Greatest Singers of All Time.
Ivan Orr is a multi-instrumentalist, composer, performer, and writer. A native of Charlottesville, Virginia Ivan was involved with the forming and nascent days of The Music Resource Center as its first Program Director. A graduate of Virginia Commonwealth University's Department of Music, Ivan currently resides in Richmond, VA where he maintains an active performance and production schedule while serving as the Music Editor for Grown Folks Music, a position he has held since 2010.