#SoulfulSaturday HAILS to the Queen!
Often imitated, but never duplicated #SoulfulSaturday honors and hails to the Queen. Being an inspiration to a whole generation, her longevity and perseverance has had a everlasting impact throughout the nation. Individuals of all creeds and backgrounds paid their sincere respects to the all time great, Soul-Stirring Aretha Franklin on yesterday. Celebrating her life with a massive 6-hour home going, which included R&B vocalists Fantasia and Jennifer Hudson, the world watched as our Queen was put to rest in style.
This week, we have a visual of why she will forever be remembered as the Queen of #SOUL!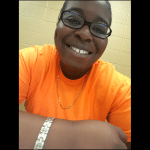 Mattie Brown is a Music Journalist, specializing in reporting and producing content for the R&B genre. Residing in Decatur, GA she obtained her A.A in Journalism from Georgia State University-Perimeter College. Mattie has always had a passion for writing, designing and editing. While pursuing her B.A at Clayton State University, her musical passion took her to new heights. "My love for R&B has kind of outweighed everything", she states. She has truly taken her craft and used it to her full advantage. Mattie joined the team of Grown Folks Music in the summer of 2017 as their Music Journalist and is continuing to pursue her education.