It's 2019, and we "Feel Good"!
#SoulfulSaturday brings in 2019 reassuring our #Growns that we're committed to Bridging The Gap. Keeping the Funk, Soul, and everything in between alive and functioning in the New Year. Getting 'thangs' started with a GFM fave. Our good friend Stephanie Mills sang, letting us know about the unforgettable 'feeling'.
Songwriters' Gabriel Hardeman and Annette Hardeman originally delivered the track to Patti Labelle, but she handed it off stating that it wasn't a "Patti" record. Ms. Mills let her dynamic vocal ability shine through within this single. The single was her second number one on the Hot Black Singles chart and her first number one in 1987. The single spent a 3-week streak at the top spot, receiving mainstream airplay. Enjoy the visuals Fam, welcome to 2019, and "feel good"!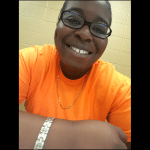 Mattie Brown is a Music Journalist, specializing in reporting and producing content for the R&B genre. Residing in Decatur, GA she obtained her A.A in Journalism from Georgia State University-Perimeter College. Mattie has always had a passion for writing, designing and editing. While pursuing her B.A at Clayton State University, her musical passion took her to new heights. "My love for R&B has kind of outweighed everything", she states. She has truly taken her craft and used it to her full advantage. Mattie joined the team of Grown Folks Music in the summer of 2017 as their Music Journalist and is continuing to pursue her education.