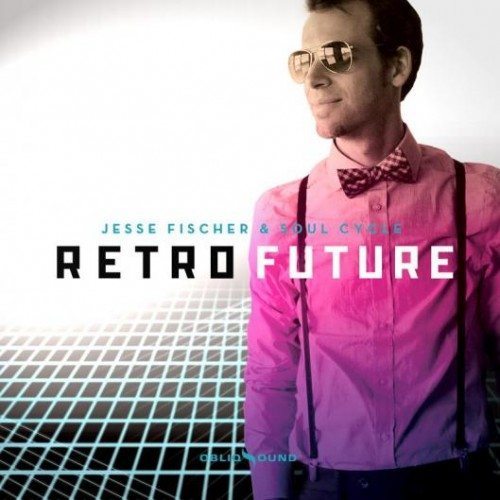 In this space that we function often when I see the word "Retro" it conjures up images for me of the well-worn, the re-treaded if you will. In fact as fast as social media evolves one might consider this process of review as somewhat retro. But in this particular case of the latest project from Jesse Fischer & Soul Cycle Retro Future the results are anything but well worn or been there done that. No, Retro Future exists in a unique space where it has successfully created a sonic landscape that helps the listener to imagine a future of music where the implements of the past hold equal sway with the tools of now to facilitate transport to that unknown then.
Retro Future contains what I would deem a sonically big sound, not overbearing, not boomy but rich and full. Where many projects operate within a narrow register of notes, the players here are not only comfortable in exploring the extreme registers of their instruments but they excel in the undertaking. Speaking of retro, the new life that has been breathed into "Aquarius" exudes a freshness led by the smoky vocals of Rachel Eckroth.
At just under 56 minutes Retro Future fits into my category of ride out music both literally and figuratively. The literal ride out of you need the perfect soothing soundtrack for the commute or maybe you're going to be stationary for a while and you need to ride out virtually. Lots of musical color is what is contained herein and the voices both vocal and instrumental are allowed lots of room to speak. On some projects it feels like the soloists are in a long line of speakers for a banquet that is running a few minutes too long and so they have to say their peace in a rushed manner to make room for the next speaker. Retro Future allows the speaker(soloist) to speak so that you get to know them. My recommendation is that you get to know Retro Future from Jesse Fischer and Soul Cycle.
Jesse Fischer & Soul Cycle
Jesse Fischer, rhodes, moog, and organ
Rachel Eckroth, vocals ("Aquarius")
Chris Turner, vocals ("Electric Ladyland")
Brian Hogans, alto sax and flute
Jean Caze, trumpet and flugelhorn
Corey King, trombone
David Linaburg, guitar
Solomon Dorsey, bass
Shawn Banks, percussion
Gabriel Wallace, drums
Buy on iTunes: itunes.apple.com/us/album/retro-future/id570185308
Buy on Amazon: amazon.com/B009439EPG

Ivan Orr is a multi-instrumentalist, composer, performer, and writer. A native of Charlottesville, Virginia Ivan was involved with the forming and nascent days of The Music Resource Center as its first Program Director. A graduate of Virginia Commonwealth University's Department of Music, Ivan currently resides in Richmond, VA where he maintains an active performance and production schedule while serving as the Music Editor for Grown Folks Music, a position he has held since 2010.