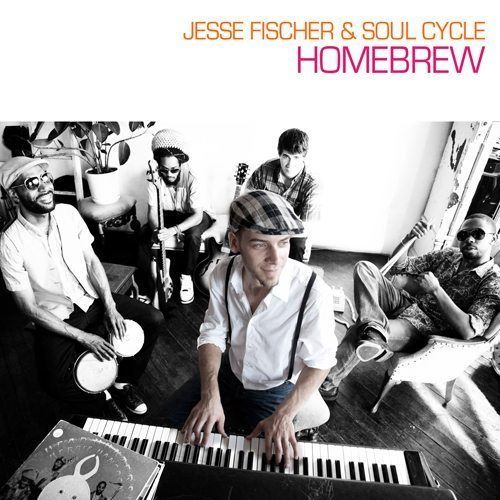 This is the part where this reviewer is going to make a pretty big statement… what I want to say is simply that Homebrew from Jesse Fischer & Soul Cycle is one of those projects that instantly reminds of what folks mean when they say "Have you listened to any music lately?" I can say confidently, that yes I have… along with some other fantastic musical moments in recent memory, the 50 min. set that comprises Homebrew gives me the feeling, that feeling of music.
What exactly is that feeling of music you ask? Well in my humble opinion, it has everything to do with the songs, the playing, the presentation, risk, realness, passion. I don't like scripted conversations and certainly don't like scripted music and what I mean by that is I don't like listening to music that I get the sense that someone told the artist to do their music in a particular way for a particular response. I don't get that feeling at all from Homebrew and the more that I think about it what an appropriate title(Homebrew). I mean we all have had the experience where we've had something that is homebrewed that is far superior to any corporate offering, it's just that the homebrew doesn't have the corporate dollars to buy mindshare, but we know that it tastes better, feels better, sounds better.
Like many, I initially heard about the project from that great cover of the Carole King classic "You've Got A Friend" featuring Gretchen Parlato. What I enjoyed about that cover is it took me in a direction that I had not expected at all, it breathed life into a composition that in some ways I didn't think could be resuscitated. What I mean is that a song like that which inextricably in a lot of our shared musical memory bank and that has been covered so many times, you say "What else can be done with it that hasn't been done?" Jesse Fischer & Soul Cycle answer this question by doing something else very well. But wait there's more… you need to checkout what they did with the John Lennon classic "Imagine" featuring Rogiérs.
In fact you need to checkout the entire album: Great feature spots from the aforementioned Gretchen Parlato, Rogiérs as well as Sean Jones, DJ Ty Adams, Jean Caze, Brian Hogans and Stefon Harris. Fantastic playing all around, sonically warm, interesting and adventurous arranging, this is an entire set that you need to listen to not a series of singles. Homebrew is due out 9.27.11 my recommendation is to purchase, press play and then tell or tweet a friend or ten friends or more.
From the press release…
The keyboardist behind Irish-Nigerian songstress Laura Izibor, Brooklyn-based Jesse Fischer is an important new voice in jazz and soul music. Appearing with Stevie Wonder on the eve of President Obama's inauguration, he has also toured the world with Izibor, as well as performing with legendary R&B crooner Freddie Jackson, Afro-European soulster Celia Faussart (from Les Nubians), Broadway star Elisabeth Withers, and indie soul sweetheart N'Dambi. A triple threat as a musician, engineer, and producer, Jesse self-produced and independently released four critically-acclaimed albums with his group Soul Cycle. His television credits include Conan O'Brien, Craig Ferguson, the Mo'Nique Show, BET's Rising Icons, Jools Holland, 90210, and One Tree Hill.
Jesse's group Soul Cycle is crafting a fresh new hybrid sound, with eclectic influences ranging from electro jazz, barbecue funk, garage rock, and psychedelic soul. With a strong emphasis on catchy, infectious grooves and memorable melodies, Jesse's compositions easily cross boundaries between jazz, soul, and pop music, and Soul Cycle has a strong band identity remiscient of 70's fusion groups like the Headhunters, Weather Report, and Roy Ayers' Ubiquity. Onaje Allan Gumbs calls the collective, "talented and eclectic musicians who know how to think outside of the box." Jesse's partners in soul include alto saxophonist Brian Hogans (Sean Jones), bassist Josh David (Q-Tip), drummer Jerome Jennings (Sonny Rollins), guitarist David Linaburg, and percussionist Shawn Banks.
Jesse's eagerly awaited upcoming release with Soul Cycle, Homebrew, will be available in September 2011, and features collaborations with Stefon Harris, Gretchen Parlato, Sean Jones, Rogiérs, and Jean Caze. The first single, a cover of Carole King's "You've Got a Friend" featuring Gretchen Parlato, is already getting airplay on WCLK (Atlanta), WHCR (New York), KSYM (San Antonio), WMPR (Jackson, MS), WTCC (Springfield, MA), as well as Perception FM and Solar Radio in the U.K., and critics are gushing about our "updated, soulful polish" (John Book, thisisbooksmusic.com) and calling it a "charming remake" that's "jazzy and soulful, with Parlato delivering a mesmerizing vocal performance" (Kim Hines, soulbounce.com).
Ivan Orr is a multi-instrumentalist, composer, performer, and writer. A native of Charlottesville, Virginia Ivan was involved with the forming and nascent days of The Music Resource Center as its first Program Director. A graduate of Virginia Commonwealth University's Department of Music, Ivan currently resides in Richmond, VA where he maintains an active performance and production schedule while serving as the Music Editor for Grown Folks Music, a position he has held since 2010.