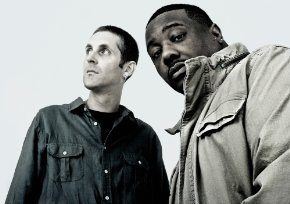 The Foreign Exchange has done it again. They never stop pushing the boundaries and have proven yet again why they have the following of very loyal fans, like us here at GFM, that they do. First off let me say this isn't your typical remix album. We've all heard the remixed track where someone has thrown a few extra drum beats here, chopped and screwed the chorus there and you can easily recognize the song within the first few bars. Remixes shouldn't be typical by definition anyway should they? The Reworks album is massive boasting twenty one tracks and is clearly a labor of love. In true Nicolay style, he has allowed some of the most talented, inventive, and dare I say "indie" composers, bands, and vocalists have their way with many of the tunes in Nicolay's expansive catalogue. The entire Reworks album was a chicken dinner (winner) for me so it's very difficult to pick and choose just a few tracks to share but here goes…
In no particular order here's a sample my favorite remixes off the album.
-The Last Fall (Focus…+FE Experience) Dub-step with a touch of sophistication type of jam. The strings are a superb addition! There many delicious layered sounds in this track.
-All the Kisses feat. Paris & Amber Strother of KING (Ahmed Sirour Remix) I've always loved the original of this song as is…What Ahmed has done with this song is equally amazing. The arrangements are are intense and have a strong Afro-Latin beat influence…there's even steel drums being played in this one.
-Flight of the Blackbyrd feat. Phonte (4Hero Remix) Okay so when I saw 4Hero's name listed on the track I was already won over. 4Hero owned this song by putting their own finger prints all over this.
-Games You Can Win feat Kenna (Nicolay Remix)…I have an RJD2 station on Pandora I listen to regularly so to see one of his tracks on a +FE album does nothing but good things for me. This track isn't a typical +FE- This is why I enjoy Nicolay so much…he just wants to put out great music…period. #FortheLoVeofAllMusic
You can pick up the new +FE Music: The Reworks album at Theforeignexchangemusic.com or iTunes.com
Be Sure to Check out their FB page and Twitter.