If there were ever a time where music and video captured the pulse of what's going on in America at this very moment, This is America by Childish Gambino did exactly that. Over the weekend, a slew of celebrities from Erykah Badu, Taraji P. Henson, Tracee Ellis Ross, Diddy, and Naomi Campbell to name a few, were posting clips of his new music video on Instagram, and the visuals were powerful and striking. No room was left for one to wonder "What is this video about?" because what was shown in the video was more powerful than the lyrics to the song.
There are so many symbolic things going on in the video that you will definitely have to watch it more than a few times. Some of the symbolic references noted were lynchings of African Americans, the Charleston church massacre, the mass shootings happening at an alarming rate, and how all of these things are quickly forgotten about in favor of the latest dances, how much money and material things one has, and what's trending on social media and the news.
The point that Donald Glover, aka Childish Gambino, makes with this brilliant video is to pay attention to what's going on around you. There is constant chaos going on in the background in the video,  yet it is made clear how we, especially our youth, can be easily distracted by the self-absorbed, unimportant things. However, it isn't until an unarmed black man makes a gun gesture with his hand do the police take notice, and he's then chased down like an animal. Sound familiar? It's the wakeup call that America and our youth need. This is America. Pay attention!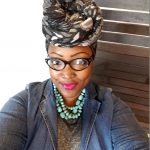 DJ CatEyez is just a lover of music who happens to be a wife, mother, Naturalista, baker, blogger, and wannabe biker chick. (Harley's RULE!) Check out her natural hair blog Going Back to my Natural Roots at 2dimplz.wordpress.com.