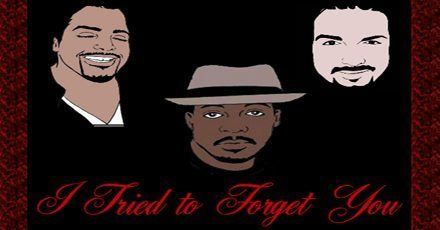 What can I say about this fantastic new musical offering "I Tried To Forget You" from SOULKISS(Tim Dillinger, Kare Alford and David Sosa) well there are lots of things and they are all good.
"I Tried To Forget You" is a cover of the 1977 composition by the late, great Sylvester and this is 2nd single from SOULKISS' forthcoming full-length CD, "Perfect Timing". Automatically when you step up to the plate to cover a Sylvester tune, you have stepped into another realm of musicality. All the fire and then some that you would expect from a Sylvester production, SOULKISS brings along with their own kindling, lighter fluid and stove. To say that their performance is soulful is an understatement, it is undeniably soulful but it also includes that extra level of transcendence, where Saturday night meets Sunday morning, where the subject of my testimony is about the goodness of ones love but the subject might be of a more earthly nature.
Often when I write reviews certain songs convict me to put them into a file that is called "music". The songs that go into this file just have that combination of a great performance, great musicianship and exist in the realm of the organic devoid of pretense. SOULKISS represents what's right about this new music industry for me: great music, making music on one's own terms and ultimately a huge respect for the music. Their respect for the music is so readily apparent from the sound of their productions. Backing musicians(which btw are killing' on this track) producers, engineers, studio time etc., are not cheap. But how SOULKISS utilizes their team on this production should serve as an inspiration for all aspiring artists.
I'm sure SOULKISS could have chosen to do the economical and convenient thing that a lot of groups do these days by using a "band" and "studio" in a box, but that's where their respect for the music outweighs their consideration of the financial bottom line and in this space is where you find music. Please support SOULKISS and their single "I Tried To Forget You" out now.
I Tried To Forget You by GrownFolksMusic

Ivan Orr is a multi-instrumentalist, composer, performer, and writer. A native of Charlottesville, Virginia Ivan was involved with the forming and nascent days of The Music Resource Center as its first Program Director. A graduate of Virginia Commonwealth University's Department of Music, Ivan currently resides in Richmond, VA where he maintains an active performance and production schedule while serving as the Music Editor for Grown Folks Music, a position he has held since 2010.