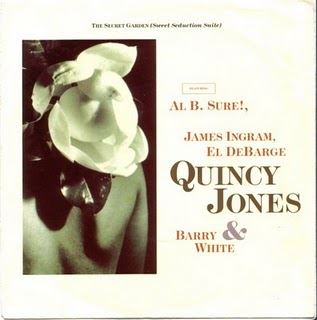 Last week was quite the week for the remix. While I'm an advocate of creativity and stamping your own individuality to a song, I do have boundaries when it comes to certain songs. The other week I was glad to see artists coming together for the relief efforts in Haiti however the remake of "We Are the World" shouldn't have been the song they rallied behind. I can't say the remix didn't have "any" hopeful moments but honestly the bad faded out the good efforts. I, like many fans, probably agree with Jay's statement given to MTV about the remake efforts.
"I'm a fan of music. I know the plight and everything that's going on in Haiti. … So I appreciate the efforts and everything, but We Are the World is [musically] untouchable like Thriller is untouchable.  It was a valiant effort, but for me, it's gonna be untouchable."
Truthfully, there are some songs that just have a magic. Maybe the stars are perfectly aligned or Jupiter just happens to rise in Leo's moon – hell, I don't know, but they have a timeless, "Sistine Chapel" appeal to them. In this case, "We Are The World" happens to be one of those songs. Unfortunately, when you touch a song of that caliber, it can lose the magic and take an awful turn as we saw in that remake. Another song that's been placed on the assembly line for a "spit shine" remix is Quincy Jones' "Secret Garden"(see video on linked post). Now, when I heard this I was deeply troubled especially when I heard the artists they're considering on the single. The artists that would replace Al B. Sure, El Debarge, and James Ingram would be Usher, Robin Thicke, Tyrese, and Trey Songz – Barry White will remain as the "Micheal Jackson" piece of the song. While I was cool with Robin Thicke, I didn't understand why Maxwell wasn't even included in the conversation!? It also amazed me that Barry White's vocals are seen as "untouchable" but the idea of remaking the song isn't seen in the same light. Now between the passing of Michael, the desecration of "We Are the World" and now possibly "Secret Garden", I wonder if the "Musical Antichrist" is near. When it's all said and done, I have to wonder what happens to the musical integrity of songs when more interest is in the amount of star power than the amount of your musical maturity and emotional depth in a song. In all truth, you can be a great star and not have musical maturity. Now, I'm not saying star power doesn't hold any importance or the artists chosen have "no" talent. They are all successful in their own right. I just question whether they can humble themselves to respect the spirit of the song. Will they approach the song with the mindset of a "musician" or as a "star"? Will they see this as an opportunity to grow as a musician or just an opportunity to promote their star? This is the question that haunts me when popular artists of the moment are chosen for certain classics that require some range. It's like giving an acting role of a complex character to someone who has box office appeal but can't reach the emotional depth the role requires. Also, you have to consider whether the co-starring artists can rightly play against the pillar role, Barry White. So with all that said, what do you think? Do you think this song should be remade? Holla at ya girl.
And to the new artists being considered for the "Secret Garden" remake, please take a loooong, hard look at this decision. Don't take it lightly and pleeeeeese don't let this be you……… 🙂

Hope is a music enthusiast and continual student of photography. Also known to rock out a quiet church or elevator with her current ringtone, Tom & Jerry's Uncle Paco, "Crambone".