SZA dropped new music and a video for her latest song "Garden (Say it Like Dat)" from her CTRL album. If you recall from Childish Gambino's video for "This is America," SZA made a cameo at the end of the video which had many wondering if this meant a collaboration was on the horizon. Well, Childish Gambino did not sing or rap on SZA's new song, but he was the star and love interest in "Garden."
The video is visually stunning as it draws you into a lush, almost dreamlike tropical garden on a remote island with beautiful black sand.  SZA looks equally beautiful donning various sexy swimsuits and showcasing her sexy Bohemian style.
The song itself delves into the many insecurities one may feel while in a relationship and needing reassurance from their partner. Needing to hear  that everything is okay and that you're beautiful and fine just the way you are. It also touches on the fear of rejection upon letting your guard down, and your partner sees you for who you really are, and vice versa – the good, bad and ugly. The lyrics are deep, raw and honest set to a futuristic, laid-back groove that will draw you in.
SZA's mother also makes a special cameo in the video. She is also featured on her album. Do yourself a favor and press play to hear new music from SZA and #GetIntoIt.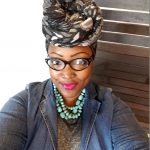 DJ CatEyez is just a lover of music who happens to be a wife, mother, Naturalista, baker, blogger, and wannabe biker chick. (Harley's RULE!) Check out her natural hair blog Going Back to my Natural Roots at 2dimplz.wordpress.com.