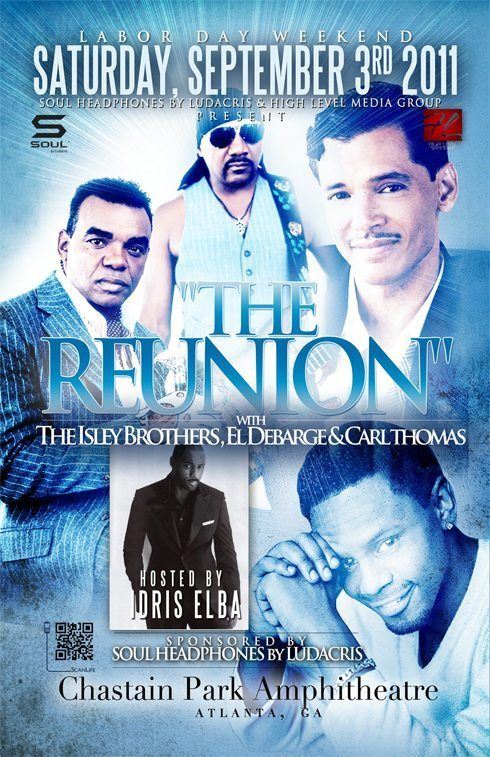 Some concerts are okay, others are pretty good, but only a few impact your thoughts and inspire your soul. One such concert will be touching the red clay of Atlanta, Georgia and bringing a melodic breeze  to the Chastain Park Amphitheatre. On Saturday, September 3rd,  the stage will be graced by three generations of soulful crooners that you definitely don't want to miss. One special guest brought us hits like Emotional, I Wish, and Summer Rain with the glowing compliment of  his debut album being listed as one of the Top 50 Albums of 2000 by Rolling Stone Magazine. While many "wish" they could testify to such accolades, only Carl Thomas can make such a statement and yes, he will be returning with not only his classics but also singing from his new album, Conquer scheduled this fall. Another special guest is no stranger to the word legend. From the umbrella of the celebrated DeBarge family and known for his distinctive voice with hits like Love Me In A Special Way, Time Will Reveal and most recently his hit, Second Chance, El DeBarge is a veteran in this own right and will be returning to the stage with a comeback performance you've never seen and will never forget. Last and certainly not least, our headliner has opened for iconic  musicians like Dinah Washington, Mahaila Jackson, and Jackie Wilson. They've worked with legendary artists like Jimmy James better known as Jimi Hendrix and for 50 + years had the ability to reinvent themselves continuously through the genres of gospel, doo-wop, R&B, funk, soul, pop and the list goes on. If you don't know these Rock & Roll Hall of Famers then let me simply say, The Isley Brothers and they will be bringing the house down with a catalogue of hits throughout their illustrious career.
So in spirit  and anticipation of this phenomenal show, set sail with us on this wonderful voyage in "Atlanta" as we experience The Reunion! We hope to see you there! 🙂

Hope is a music enthusiast and continual student of photography. Also known to rock out a quiet church or elevator with her current ringtone, Tom & Jerry's Uncle Paco, "Crambone".