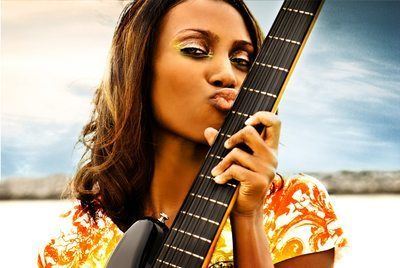 GFM Fam when a sound like this hits the inbox, there's absolutely no fighting the urge to share. Press play below to check out the sound of Nik West and after the jump check out what Nik has been up to and the great music that she's been involved with. Placing Nik West in our one to watch category effective immediately.
From the press release
With credits that include work for Coca Cola, Apple, and MTV, bassist, singer and songwriter Nik West is anything more than just another pretty face. Challenging and changing the industry around her day by day, West is a special musician with a deep love for music and the chops to back it up.
West's musical journey began in her hometown, Phoenix, AZ. It was there that her father T. West—an accomplished guitarist—taught her how to play the axe when she was just 13-years-old. Growing up in a household filled with music and creativity. West's family includes her sisters (keys, drums, violin, and guitar) who were her first band and singing act, and an older brother, a few of which she still records with today.
Though she began her musical journey playing the guitar, the left-handed phenom truly realized her calling when she discovered the bass while in high school. After discovering the instrument there was no stopping her.
Music was not the only area West excelled in. The accomplished model and musician was a straight A student in high school and a track and field record holder. Unfortunately for the universities that offered her scholarships for her mind and athletic acumen, West chose music as her career path.
West's skill was noticed early on by legendary music company, Fender. They took notice of her standout voice and soulful bass playing and offered her an artist endorsement. She was also one of the first musicians to play Fender's first 6-string bass. West's string of accomplishments continued as she was selected to endorse SWR's Black Beauty Amplifiers. The photo of West that is featured in the SWR advertisement was hand selected by legendary bassist Marcus Miller. The ad is currently running in Bass Player Magazine.
Although West's father taught her and her siblings how to sing at a young age she has always considered herself more of a bassist than a singer. So much so that she intended for her debut album—Just in the Nik of Time—to be an instrumental project. "The producer I was working with, Justin James, told me I have a wonderful voice and I need to sing," says West. "I ended up doing it and I kind of like it now."
While working on that album, Dave Stewart of Eurythmics also became acquainted with West's work and reached out to her to join his all-female Rock Fabulous Orchestra. Within days she was performing with Stewart in Los Angeles to capacity crowds. Days later she also began working with Stewart and Grammy-winning songwriter/producer Glen Ballard (Alanis Morissette, George Strait, and Michael Jackson) on a recording project.
Noted music journalist Alex Henderson sums the West's incredible talent up saying "Nik West is one 21st Century R&B artist who isn't lacking in the chops department. She is a young electric bassist who clearly knows her way around her instrument and plays like she has been inspired by the funky likes of Graham, Louis Johnson (of Brothers Johnson fame) and Marcus Miller."
After nearly two years of hard work West's labor of love was released—very fittingly—on Valentine's Day, 2011. Just in the Nik of Time has already received rave reviews from critics and is selling well internationally. The album showcases West offering fans her songwriting and bassist skills as well as her soulful voice. Tracks like "Black Beauty," "Eyes Closed" and West's personal favorite "Forbidden Fruit" are sure to remind listeners that real music still exists.