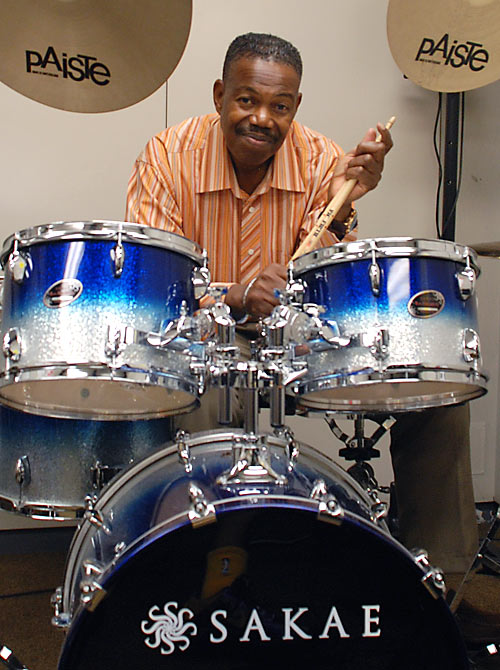 If you don't know the name Ndugu Chancler you certainly know his drum sound like this one…
Or his Grammy Nominated production work like on this one…
Simply put through his work with George Benson, Stanley Clarke, The Crusaders, George Duke, Herbie Hancock, John Lee Hooker, Hubert Laws, Thelonious Monk, Jean-Luc Ponty, Lionel Richie, Kenny Rogers, Patrice Rushen, Santana, Frank Sinatra, Donna Summer, The Temptations, Tina Turner, Weather Report, Erykah Badu and many more you know Ndugu Chancler.
Funk, Rock, Jazz, R&B, Country… Music. Ndugu Chancler was called upon to lay down the groove and boy did he lay it down. All the way down. Need an example? Watch and listen how he sets the entire pace on Peter Gabriel's "Sledgehammer". A young drummer would do well to spend a lot of time working toward this level of Groovesmanship.
With a reputation as one of the kindest musicians you could ever meet, Ndugu's work as a life-long educator( he was a graduate of California State, Dominguez Hills with a degree in Music Education) is very easy to understand. Check out his work here at the Stanford Jazz Workshop.
It goes without saying that the sound that Ndugu Chancler provided to countless seminal recordings has been a vital part of the musical landscape for decades. This point should not be overlooked and in Ndugu's absence should serve as a constant source of inspiration for musicians to work to achieve a commitment to musical excellence the example of which Ndugu left us. Examine the legacy closely. As I often say follow the breadcrumbs. They are so easy to follow now more than ever. But don't spend your entire life online, get out and apply the lessons learned from a Ndugu Chancler to your own work and that is how we honor a legacy in word and deed.
Rest well.