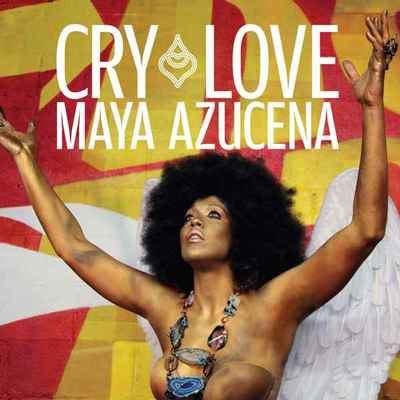 Brooklyn-based singer-songwriter Maya Azucena recently released her newest album, Cry Love, on iTunes back in late June. The official, physical release is slated for September 13th. Below is "Cry Love" the title track and first single release from the album.
Maya Azucena – Cry Love by MayaAzucena
"Cry Love" is the perfect thread that binds the collection together. Maya may be Brooklyn based but this is music that finds its way to destinations throughout the Diaspora. I don't know if a Summer release was intentional, but this music is hot and I don't mean hot in the Diddy use of the word, I mean hot as in when you listen to it you imagine being in a place where the temperature is hot, that warm breeze that you feel coming off the water at 8:30pm type hot.
Filled with the color of live instrumentation Cry Love will appeal to those of you who can appreciate those sensibilities and the difference that you hear when the pulse is human as opposed to digital. The use of live instrumentation would make sense because when you listen to the stories unfold you understand that this is in an album of involvement, Maya considers the plights of others and that intersection with her own humanity.
Besides the aforementioned "Cry Love" some standout tracks for this reviewer are: "Shine" (Bluesy Goodness), "The Half" (Sabrosa Soul) which features Vernon Reid on guitar, and Maya's take on the Donny Hathaway classic "Little Ghetto Boy" which is a duet with singer/pianist Chris Rob.
The set is solidly soulful, a balanced real home cooked meal full of nutrients, nothing fast or mass produced for mass consumption here. This is the type of music that you buy and invite some friends over, cook a great meal with some wine or other beverage of choice. Put this album on while you dine and then discuss over dessert and coffee. That's what you do with great art right? When music is in that realm it deserve the same treatment. Congrats to Maya Azucena and her team for creating some art worthy of embrace and discussion.
Keep up with Maya on the web here:
www.mayaazucena.com
www.facebook.com/mayaazucena
www.twitter.com/mayaazucena

Ivan Orr is a multi-instrumentalist, composer, performer, and writer. A native of Charlottesville, Virginia Ivan was involved with the forming and nascent days of The Music Resource Center as its first Program Director. A graduate of Virginia Commonwealth University's Department of Music, Ivan currently resides in Richmond, VA where he maintains an active performance and production schedule while serving as the Music Editor for Grown Folks Music, a position he has held since 2010.