I caught up with Blitz the Ambassador at the 92Y in Tribeca a couple weeks ago for another amazing show and to ask him a few questions about his upcoming album, his influences, rapping from Ghana to Brooklyn, and the changing music industry.    I'll let Blitz speak for himself, so check out the interview below:
Interview with Blitz the Ambassador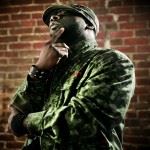 In case what you missed what I've said about Blitz before, let me say it again:  he's amazing, and you'll probably be hearing more and more from him.   Not only are his lyrics and sound straight from the soul, he puts on one of the tightest live shows I've seen.  He comes on stage with a full horn section, hand drums, and energy like you wouldn't believe.  If you ever have the chance to make it to one of his shows, do it now!!
I saw him as part of the Lyricist Lounge showcase, which also featured great sets from the likes of Homeboy Sandman and Raye 6.  Check out some footage and mp3s from the show below.  My favorites from the night were "Breathe" (he usually opens with this — punchy horns, slick flow, the works) and "Remembering the Future" — he even sings in the latter.  Below is some video footage from the show –check out the GFM music player at the bottom of the post for some mp3s from the show (plus Blitz's new single).
"Home"
"Remembering the Future"

We've also got his new single "Nothing to Lose" with the lovely Kate Mattison — it's dark, soulful hip hop goodness.  Listen or download it here.
"Nothing to Lose"