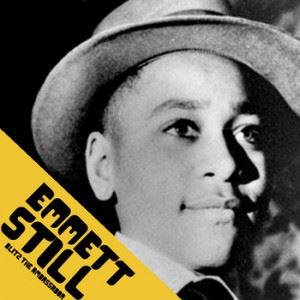 I'm going to make what I have to say very short and to the point, because this music says it all. After the first listen I remarked to Mista C: "This track needs to be listened to and discussed in every middle and high school Social Studies class in the country. Period."
For those not familiar with the story of Emmett Till, Till was brutally murdered at the age of 14 in 1955 while visiting relatives in Mississippi. Till met his tragic and untimely demise for "getting fresh" with a white woman who was the clerk at the store he visited with his uncle. His murderers were found not guilty clearly by a jury of their peers(probably uncles, cousins and the like…).
Major props to Blitz the Ambassador for going well-beyond the lip service of so many "hip hop" experts and pseudo-intellectuals and forging music where the rubber actually meets the road. This is hip hop living out its potential; to be a source of information that at times supersedes the oft' repeated CNN of the streets meme.
Now, if we as responsible listeners and lover's of this music can make this track as viral as "Pants on the Ground" (not that I don't love that tune for its comic relief and message) we may be on to something.
Here's the line from the track that ties it all together: "We know not our history, we're doomed to repeat it." Free download of "Emmett (S)Till" here.