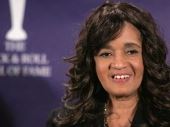 Estelle Bennett, member of The Ronettes, has died at the age of 67. She was found dead in her New Jersey home by the police after relatives had been unable to contact her. Her sister, Ronnie Spector, paid tribute to her in a post called "Estelle is gone" on her website.
The Ronettes were most famous for their 1963 hit 'Be My Baby', which has since been covered by stars including John Lennon, Glasvegas and Amy Winehouse.
The Phil Spector-produced band were inducted into the Rock And Roll Hall Of Fame in 2007.
As well as her sister, Bennett is survived by a daughter and three grandsons.
Our thoughts and prayers go out to the Bennett family. Enjoy "Be My Baby" after the jump.
"Be My Baby" (Jeff Barry, Ellie Greenwich, Phil Spector) Phil Spector's 20 Greatest Hits (Spector/1977)