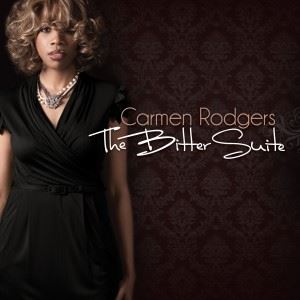 GFM Fam we are very excited about this upcoming release. A few months ago we featured the track "Heartless" from Carmen which received a well deserved amazing amount of plays. Please be sure to check out two new tracks from The Bitter Suite available digitally this Tuesday May 25th after the jump!
From Carmen's Press Release…
Dallas' own rising singer-songwriter, Carmen Rodgers, will officially drop her sophomore album, part one of two summer releases, The Bitter Suite digitally on May 25, 2010.The Bitter Suite is an incredible 5-song 3-interlude collection of stories and conversations Carmen has experienced during this 5-year intermission.
Filled with blunt truths and dark thoughts she exhibits what her first album, Free, suggested. Freedom. This time, she reveals a freedom in expression, a liberation to lose control and an independence that she's grown to recognize while being away for so long.
Produced entirely by Ernie G. and Carmen Rodgers, songs on the album are Tell Your Story, Home, It's Me, Never Again, Better U Than Me, respectively. The entire album is filled with a mixture of slow, melodramatic and sultry instrumentals with provoking lyrics. Never Again, an up-tempo, drum and base tune brings a bit of color in the otherwise somber collection. The single, What Hurts You, a mid-tempo groove that both men and women can relate to, will be included on Intermission, the second summer release which also features a duet with Anthony David.
05 It's Me (mastered) by GrownFolksMusic
What Hurts You by GrownFolksMusic

Ivan Orr is a multi-instrumentalist, composer, performer, and writer. A native of Charlottesville, Virginia Ivan was involved with the forming and nascent days of The Music Resource Center as its first Program Director. A graduate of Virginia Commonwealth University's Department of Music, Ivan currently resides in Richmond, VA where he maintains an active performance and production schedule while serving as the Music Editor for Grown Folks Music, a position he has held since 2010.