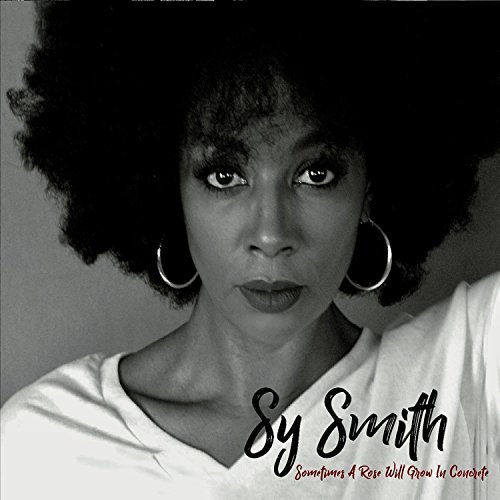 Sometimes A Rose Will Grow In Concrete the fifth studio album from friend to GFM Sy Smith is set to release this Friday. Here at GFM we've decided to do something a little different in considering the body of work of Sy Smith and this current landscape of much music in the marketplace. Often music sites function in the role of reporters. Nothing wrong with that. But often what that translates into is what we refer to around the water cooler here at HQ as the one and done. Meaning you see one maybe two posts about an upcoming project from an artist and you probably won't hear much about it after that. Again, understood because there's so much music, and deadlines, and CPM's and Googles and Facebooks so yes you get the point.
So with Sometimes A Rose Will Grow In Concrete we reached out to Sy and we threw our hat into the ring to be supporters of her project not just reporters. What that means is for the next three days you will see posts related to Sy and the project leading up to the Friday release and for next few months you will see Sy and SRWGC related content gracing our site and socials. This release is on Sy's indie label Psyko Records and as she's stated on the interweb streets she needs for fans old and new to get the word out about the release because she doesn't have a street team to do the legwork. So in many ways here at GFM we want to help with that role of getting the word out. One of the biggest challenges facing artists today is the ability to cut through the chatter and bring awareness to their work.
What a special work this album set is: a 9- track, 3-interlude set that marks Sy's first-time in the producer chair. A very personal sounding record with great storytelling accompanied by the astute and passionate touch of Sy's keyboard work. This is top-shelf music you need to sit with from a top-shelf artist. For those of you not familiar with the resume, Sy has toured/recorded with some of the best-known recording artists including Whitney Houston and Meshell Ndegeocello. She's currently a featured special guest on tour with Grammy-winning trumpeter Chris Botti and is featured on his Grammy-nominated DVD "Live In Boston". SRWGC features many of these previous/current bandmates including legendary percussionist Sheila E. (with whom Sy has toured/recorded) and violinist Lucia Micarelli (bka Annie on HBO's Treme). So there you have it #Growns receipts are in order and what we would like for you to do is to head on over to iTunes to preview the recording as well as get pre-order.
Make sure to check back in with us tomorrow and Thursday as we will have some more great support content for Sometimes A Rose Will Grow In Concrete including our very special interview with Sy that will debut on Thursday!

Ivan Orr is a multi-instrumentalist, composer, performer, and writer. A native of Charlottesville, Virginia Ivan was involved with the forming and nascent days of The Music Resource Center as its first Program Director. A graduate of Virginia Commonwealth University's Department of Music, Ivan currently resides in Richmond, VA where he maintains an active performance and production schedule while serving as the Music Editor for Grown Folks Music, a position he has held since 2010.