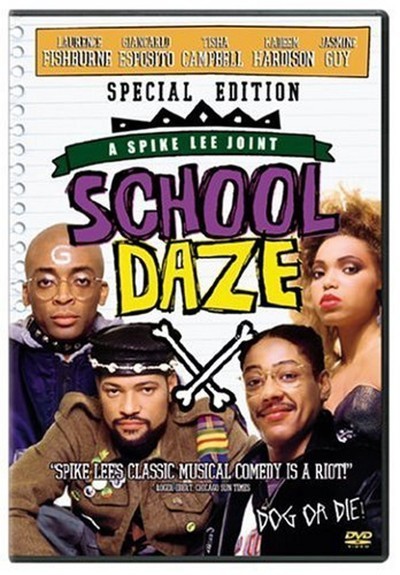 School Daze the sophomore feature film outing for director Spike Lee premiered this day in 1988. I can literally remember that Friday like it was yesterday. It was my senior year of high school and we had a crew that would hit the movies and other activities most weekends. On the movie side of the game it didn't hurt that we had "the hook up". Yes the proverbial hook up where one of our boys worked at the theater and took the tickets. So the deal was just walk in like you already purchased your ticket and then when you go to him he would pretend like he tore your ticket and once the movie started he would come in the theater to "collect" your $2 which he pocketed. Capitalism, in this instance, worked for me.
There was no doubt amongst the crew what we were going to be doing on Feb. 12th of that year. Highly anticipated among our set School Daze was primed to speak directly to our generation. Although A Different World had premiered that Fall on NBC it had not yet been retooled into the better-defined HBCU experience that fictional Hillman College would become. Both my parents went to HBCUs and my father pledged a fraternity during his undergrad experience so through stories and visits to campuses during homecoming season I had a little knowledge of what campus life might be like. But like most things in life there is no real knowing until you experience and with my graduation still a few months away this film represented a potential peek into a road that I would be traveling soon. The other thing that was on our minds is that we were all big fans of Go-Go and to hear that one of our favorite bands E.U. was going to be in this movie, we had to be there.
That night when we got to the theater we were in for a little surprise. The UNC Basketball Team was in town to play UVA(my hometown is Charlottesville) the next day. Somehow they got a pass to check out the movie(I kid, I kid). Someone should've set up a hoop in the parking lot, I think my guys and I could've taken them. But I digress… we had somewhat of an inkling that School Daze was partly a musical but I'm not sure of how many of my friends we were ready for the full on MGM Musical of this scene(I apologize for the YouTube quality of the clip). But a quick glimpse down the row showed that everyone was riveted to the message and the music
The film also meant so much to us because it showed a wide range of opinions, socio-economic statuses, political points of view all within the microcosm of college life. Being from a college town trust and believe this scene really resonated. So many dimensions to life often based upon your perceived standing in relation to institutions.
Man, they had a Homecoming Dance. It was classy I mean anytime you have Phyllis Hyman(RIP) in the building the level of sophistication elevates.
And who could ever forget Keith John's incredibly heart wrenching performance of the Stevie Wonder penned "I Can Only Be Me"
I'm just gonna put this out there, I'm not too sure if myself and my merry band of teenage dudes were paying much attention to the actual song here.
A lot has changed in 30 years but then again many things have remained the same. When I've viewed School Daze at different points in my life I'm always struck at how the movie is able to bring me right back to that time and space. A time that many of us should be so fortunate to experience: hope for the future, inspiration, laughter, challenges, transition. Another point that I believe is so important about School Daze is that while fictional(like Hillman College) this film I believe was a catalyst to spark interest in college for a number of people who may not have initially considered continuing on to higher education. With all that critics will point out (through 2018 eyes) that's wrong with School Daze inspiring students to go to college is an undeniable very positive outcome. As I often say on these pages about my real-time experiences, I feel very fortunate to have experienced School Daze and for anyone who doesn't understand the long-lasting appeal of this movie to my generation I'll just say you had to be there.
Ivan Orr is a multi-instrumentalist, composer, performer, and writer. A native of Charlottesville, Virginia Ivan was involved with the forming and nascent days of The Music Resource Center as its first Program Director. A graduate of Virginia Commonwealth University's Department of Music, Ivan currently resides in Richmond, VA where he maintains an active performance and production schedule while serving as the Music Editor for Grown Folks Music, a position he has held since 2010.