Wishing you an "Outstanding" New Year!
This #SoulfulSaturday, GFM reflects on the outpouring of love we've received throughout 2018. We thank all of our fellow fans, contributors, and musicians of all creeds. As 2019 approaches, we're looking forward to an abundance of support, and of course we'll make sure to keep y'all dancing. And also, we definitely won't stop the music! We'll let The Gap Band bring it in for us!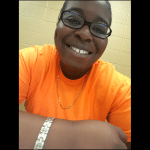 Mattie Brown is a Music Journalist, specializing in reporting and producing content for the R&B genre. Residing in Decatur, GA she obtained her A.A in Journalism from Georgia State University-Perimeter College. Mattie has always had a passion for writing, designing and editing. While pursuing her B.A at Clayton State University, her musical passion took her to new heights. "My love for R&B has kind of outweighed everything", she states. She has truly taken her craft and used it to her full advantage. Mattie joined the team of Grown Folks Music in the summer of 2017 as their Music Journalist and is continuing to pursue her education.