#SoulfulSaturday takes it back to the Ol' School, sprinkled with #Soul 😉 …
Grown Folks Music was beyond thrilled this week to announce the birthday of one of our highly-noted "Architects of Soul Music", The Reverend Al Green. We can go on and on discussing the strand of countless hits recorded by this Soul Connoisseur, but instead since #Soul is what we're about here at GFM, we'll provide a visual art demonstrating why The Rev is just that.
""Love and Happiness" was like mixing explosive chemicals. Everything had to be added at just the right time and at just the right dose.",
exclaims Rev in his memoir "Take Me To The River".
Testify, then!
A timeless,classic track from beginning to end, with superb instrumentals and all. Pure soul, topped with 'Love & Happiness' . We can definitely dig that!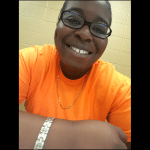 Mattie Brown is a Music Journalist, specializing in reporting and producing content for the R&B genre. Residing in Decatur, GA she obtained her A.A in Journalism from Georgia State University-Perimeter College. Mattie has always had a passion for writing, designing and editing. While pursuing her B.A at Clayton State University, her musical passion took her to new heights. "My love for R&B has kind of outweighed everything", she states. She has truly taken her craft and used it to her full advantage. Mattie joined the team of Grown Folks Music in the summer of 2017 as their Music Journalist and is continuing to pursue her education.