#SoulfulSaturday Gives The Best In Soul Ballads…
#SoulfulSaturday dives into the vault with one of the most seductive voices of our time. Anita Baker 's raw and uncut sound has still dominated the R&B/Old School genre. Continuing to give us the best that she's got, the single celebrates its' 30 year release this month. In the Anita way, she switched the tempo within the intro and created a world-class groove. The album Giving You the Best That I Got was released in October 1988. The smooth ballad spent two weeks at No.1 on the Billboard R&B chart in November 1988, receiving multiple Grammy's for Best Female R&B performance, and countless nominations. Her album of the same name gained her international success. It was Anita's first and only #1 Pop album in the US, her second #1 R&B Album, and was certified 3x platinum in 1989 by the RIAA.
She put everything on her wedding ring within this signature ballad. Celebrating 30 years of a timeless classic, GFM highlights Anita's longevity and also her well-noted, class act performances.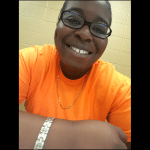 Mattie Brown is a Music Journalist, specializing in reporting and producing content for the R&B genre. Residing in Decatur, GA she obtained her A.A in Journalism from Georgia State University-Perimeter College. Mattie has always had a passion for writing, designing and editing. While pursuing her B.A at Clayton State University, her musical passion took her to new heights. "My love for R&B has kind of outweighed everything", she states. She has truly taken her craft and used it to her full advantage. Mattie joined the team of Grown Folks Music in the summer of 2017 as their Music Journalist and is continuing to pursue her education.