Soulful Saturday strollin' back down memory lane 😉
I remember being a youngster when I first heard this jam, here. Knee high to a grasshopper, I can recall bopping in the most adorable form. Not having the slightest idea of the message behind the record, all I knew was I rocked with it. "That beat, that voice, that vibe…where and who did it come from? Now in my later stages, I came to determine that it came from somewhere. A remake that was done right, bringing the 90's feel. #SoulfulSaturday strolls back down memory lane this week with this throwback from 90's R&B vocalist Lathun Grady.
Being sampled from Debbie Deb's When I Hear Music, both tracks are bound to get one up and movin'! Freestyle dancin' incorporated with a Feel Good vibe, from 1983. What'd y'all say #Growns?! Put both up to the test…y'all got it! 'Vibe' on this #SoulfulSaturday 😉 .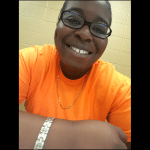 Mattie Brown is a Music Journalist, specializing in reporting and producing content for the R&B genre. Residing in Decatur, GA she obtained her A.A in Journalism from Georgia State University-Perimeter College. Mattie has always had a passion for writing, designing and editing. While pursuing her B.A at Clayton State University, her musical passion took her to new heights. "My love for R&B has kind of outweighed everything", she states. She has truly taken her craft and used it to her full advantage. Mattie joined the team of Grown Folks Music in the summer of 2017 as their Music Journalist and is continuing to pursue her education.