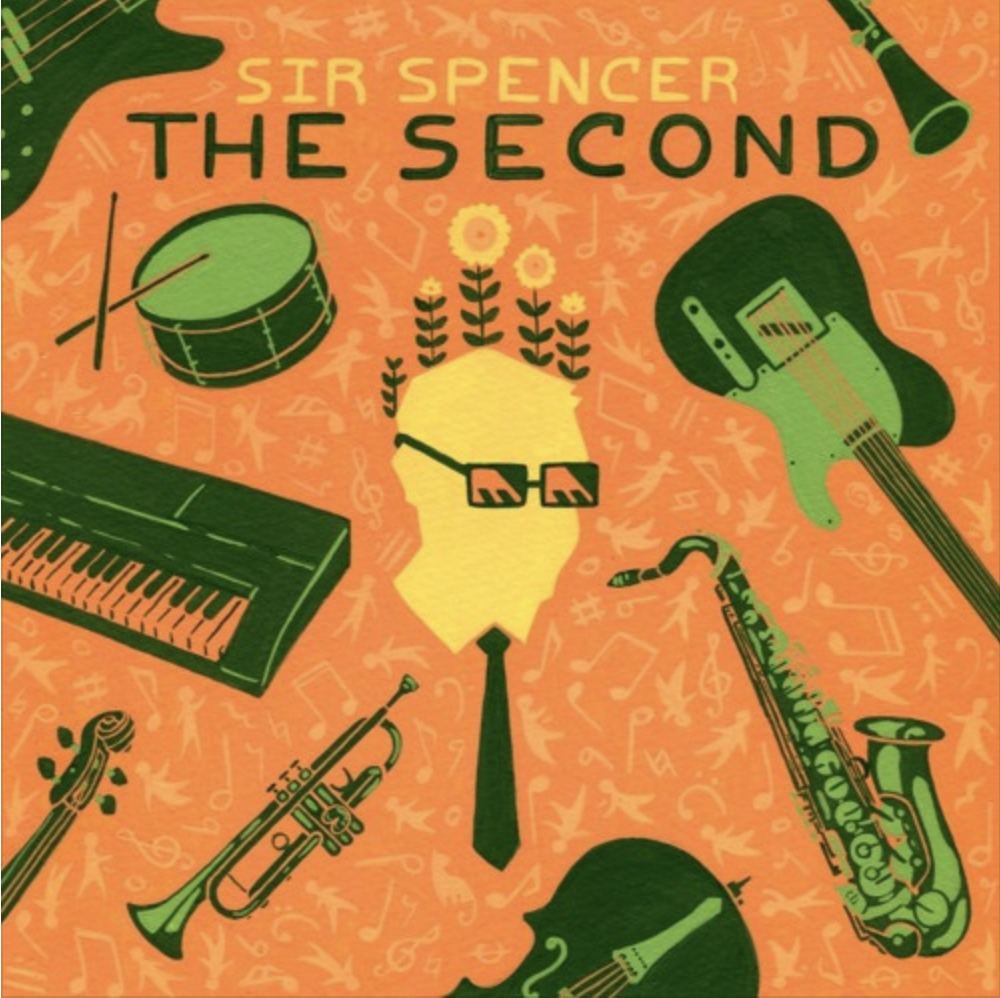 Album Artwork by Abigail Spence
www.abigailspenceart.com
#Growns on this Friday the directive is to check out The Second from Sir Spencer who we've featured here previously here with his bonafide MPLS anthem "Made In Minneapolis" which features another friend to GFM Jason Peterson DeLaire.
The Second is the aptly titled second album from Sir Spencer which features a wider range of collaborations from his vast network of artist collaborators and the ten song set is evidence of the rich palette that he is able to pull from.
What is most pleasing to the ear hear is the care taken in the songwriting and how the production enhances the beauty that is already present. Sir Spencer allows the songs, the stories to be the stars and ever collaborator here shines as they bring the music to life and you are left with a feeling that this was intentional and that the production is held in its proper place.
From kudos to props and pounds all around to everyone involved in the making of The Second from Sir Spencer. But don't just take my word for it, take a listen below to "Control Me" feat. Kendra Glenn and then head on out to your favorite platform to check out the full set of The Second out today from Sir Spencer!
From the press release….
"We decided to just keep on writing."
Oct 21, 2022 – Just shy of 17 months since the release of 'The First' album, Sir Spencer is back with his second album. Aptly titled 'The Second' and featuring collaborations with a range of artists, The Second is both familiar in terms of the sound and song-writing sensibilities while simultaneously demonstrating more ambitious, organic arrangements and production. For 'The Second', Sir Spencer has reached further through his musical network, adding a number of new names to the roster for this musical collective. Of the process of putting this new record today -"At the time we were wrapping up the collection of songs that ended up on 'The First' record, we had a couple of others – notably 'Sunflower' and an early version of 'Maybe' – that were almost done. Not that music is ever really done, of course. We decided to just keep on writing and collaborating remotely and we scheduled a few in-person sessions as and when we could.
The result is a record that pretty much showcases our broad musical interests, provides an outlet for some experimentation for us and the other artists. We think it hangs together pretty well." Working again with Jason Peterson DeLaire and Sam Brawner(Blue Dream Studios)on production duties, Sir Spencer has turned in a tight 10 track album spanning current and 80s pop, R&B, funk and soul worlds effortlessly.
From bouncy and breezy first track 'Sunflower'- with Nelson Braxton(Michael Bolton, Braxton Brothers) on bass, Sam Brawner (Raquel Rodriguez) on drums and the ever-present Jason Peterson DeLaire(Michael Bolton, Prince, Peterson Family) on vocals – to the90s freestyle vibe of 'Turn Us Back Around' featuring Chrissi Poland on vocals and co-writing duties, this is a record that is easy to listen to while providing enough surprises to maintain your interest throughout it's tight 34 minutes. Featured vocalists include: California-based artist Blckatom, Minneapolis-local R&B singer Kendra Glenn, up-and-coming LA-based Taylor Simone Harvey, singer-songwriter extraordinaire Chrissi Poland(Michael Bolton, Bette Midler)
Keep up with Sir Spence around the web…
www.sirspencermusic.com
sirspencer.bandcamp.com
Twitter: @SirSpencerMusic
Instagram: sirspencermusic.com
Facebook: SirSpencerMusic
Featured Artists(Instagram)
Blckatom – blckatom
Taylor Simone Harvey – taylorsimoneharvey
Kendra Glenn – Kendra.glenn
Chrissi Poland – chrissipoland
Jason Peterson DeLaire – jpdelaire
Ivan Orr is a multi-instrumentalist, composer, performer, and writer. A native of Charlottesville, Virginia Ivan was involved with the forming and nascent days of The Music Resource Center as its first Program Director. A graduate of Virginia Commonwealth University's Department of Music, Ivan currently resides in Richmond, VA where he maintains an active performance and production schedule while serving as the Music Editor for Grown Folks Music, a position he has held since 2010.