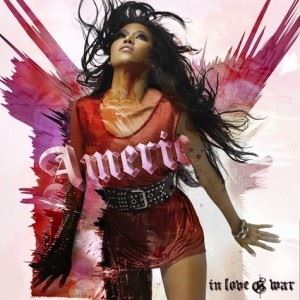 When I first had the chance to hear Amerie, it was on her 2002 debut album "All I Have," and I was quickly blown away. The album infused sounds from r&b, soul, and neo-soul, and had an overall polish to it. Her powerful voice over a series of mid tempo jams and ballads convinced me we had a new unique talent unlike anyone currently out. Not only did she co-write all of the songs on the album, but it featured no guest appearances which allowed her to take hold of the spotlight and use that to her advantage.
Amerie was able to further define her unique style on her follow up album "Touch" in 2005. This time, she added elements of hip hop, funk and jazz to the mix, along with some up-tempo songs, moving her still farther away from away from what anyone in the mainstream had even experimented with. This is perhaps even more evident on her international only release "Because I Love It" in 2007, where she managed to push the limits even further by applying her new sound to mostly up-tempo songs. Through it all, there was no questioning her voice, which is powerful and beautiful, yet strong at times.
By her third album, though, her style had moved away from a more subtle and soulful groove, to a more loud, in your face, abrasive brand of music. While it worked on some tracks, I've felt that despite her unique sound, she really moved away from what worked so well on "All I Have." In fact, "Because I Love It" seemed to be in a totally different direction than her debut.

Unfortunately, on her fourth album "In Love and War," it is more of the same. My initial impression is that even though she's been able to create a unique sound, she's trying to push the limits even further, most notably by mixing in elements of classic rock and old school hip hop. At this point, the listener is met with so many sounds and different styles that they have no idea what to expect next. For example, the album moves from a classic rock inspired "Higher," to an old school hip hop inspired "Why R U," to an old school r&b inspired "Pretty Brown;" all lined up in a row.
Another downfall of the album is the presence of un-needed guest appearances, something that didn't really occur on her previous material. I'm not against including duets to enhance the album, but when you include flavors of the moment like Trey Songz and Lil' Wayne, it comes off as feeling forced. Why the need for these artists now when Amerie has clearly been able to shine before on her own?
I mentioned on her debut album she co-wrote all of the songs (with the help of veteran song writer Rich Harrison), which turned into a collection of beautiful ballads and mid tempo jams. Well, you can very easily tell that Harrison is absent from this project from the decrease in writing quality. This is most apparent on songs like "Swag Back" and "Heard 'Em All." Perhaps either she's trying really hard to appeal to the mainstream masses, or she decided she just needed to dumb down her topics for the listener. What I know for sure is, this is a definite step backwards.
The album is not a complete failure, however, as the second half brings some vintage Amerie. "Red Eye" is a very soulful mid tempo jam that I would come to expect from her after hearing her first two albums. This is followed by another two mid-tempo tracks, "The Flowers" and "Different People." Her beautiful vocals really shine when she utilizes them correctly as she does here. Had she chose to start the album with these songs, followed up by more of the same, we might have been in for a real treat.
I'm all for personal growth and experimentation with artists, but there comes a time when they need to find their boundaries and understand what works well for them. After a beautiful debut, it's almost as if she took what worked well and threw it out in favor of something new. Whereas her debut album flowed so well from start to finish, "In Love & War" pulls the listener in every direction sound wise in procession, causing the album to lack an identity. If you could listen to abstract art, this is what it might sound like. The bottom line is, Amerie has a great voice and unique style, and is very talented, but needs to understand how she succeeded in the past and stick with that.
Rating 2.5/5
E-Mail: Thomas_Leo@hotmail.com
Web Page: www.YouKnowIGotSoul.com
Ivan Orr is a multi-instrumentalist, composer, performer, and writer. A native of Charlottesville, Virginia Ivan was involved with the forming and nascent days of The Music Resource Center as its first Program Director. A graduate of Virginia Commonwealth University's Department of Music, Ivan currently resides in Richmond, VA where he maintains an active performance and production schedule while serving as the Music Editor for Grown Folks Music, a position he has held since 2010.