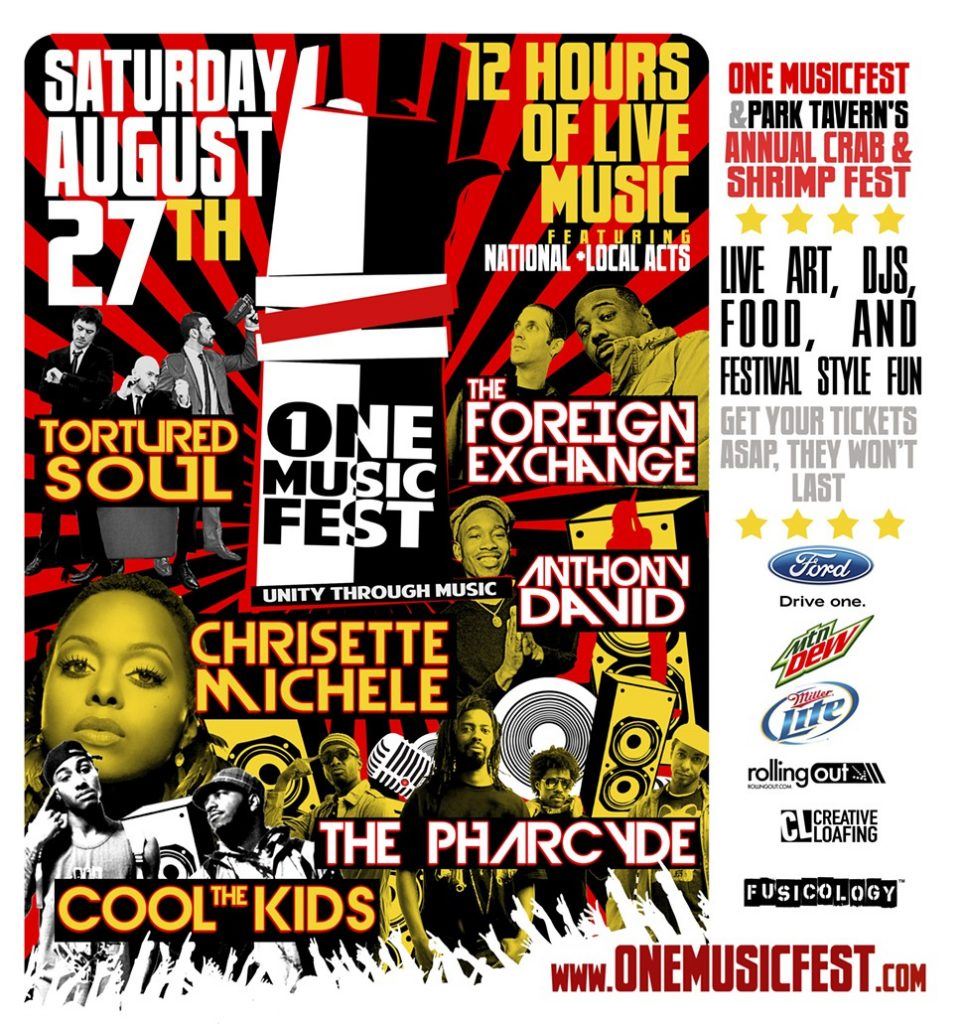 Hola GFM fam!!!
It's that time again!!! Time to make way for the musical experience you've been waiting for all year!! The ONE Musicfest is back and better than ever. Here's this year's line up and great festivities!!
Per the official press release:
ONE Musicfest 2011 Announce Festival Headliner Grammy Award Winning songstress Chrisette Michele
to include performances by Tortured Soul,  The Cool Kids, Anoop Desai, The Pharcyde, Anthony David, Foreign Exchange, and more
Atlanta (Pitchengine.com) August 16, 2011 – Today ONE Musicfest organizers announced the complete 2011 performance roster to include: Tortured Soul, Anthony David, The Foreign Exchange, The Pharcyde and just added; Anoop Desai (American Idol), The Cool Kids and Chrisette Michele with a special performance by "Searching for The One" Winner – Kyron Leslie who was selected by the city of Atlanta residents. Recently catching the attention of true music fans across the nation with the theater documentary release of  "Beats, Rhymes, & Life", legendary group A Tribe Called Quest's Phife Dawg will serve as this year's festival host. As seen on CNN, Vibe Magazine, the Atlanta Journal Constitution and more,  the ONE Music Fest  indoor/ outdoor concert experience will take place in over 20,000 square feet of green space at the beautiful Park Tavern concert space. This year's festival format and musical experience will also infuse Park Tavern's nationally renowned "Crab & Shrimp Festival" spearheaded by the venue's culinary artist, Chef Romero. Tickets for the ONE MusicFest taking place on Saturday, August 27, 2011, can be purchased at select retailers and online at
Releasing her third studio album Let Freedom Ring – this year's festival headliner, Chrisette Michele, will add her signature sultry style with a mature level of musicality in her anticipated stage performance infused with over twelve non-stop hours of music by a plethora of nationally acclaimed artists, local artist and food galore. Emerging as one of the Summer's most anticipated festival concert series in the region, this years  "Crab & Shrimp Festival" will feature menu offerings including Crab Broils for Two, Shrimp dishes in a multitude of preference offerings, unique food pairing baskets with fresh crab, summer corn, potatoes & more. Aiming to stimulate all five senses, ONE Musicfest 2011 will unify spectators and fill a necessary void in the city's experience options.
The 2010 inaugural ONE MUSICFEST was headlined by internationally acclaimed artists such as Common, De La Soul, Goapele, the Love Language, DJ Mick Boogie and a genre cornucopia of grassroot talent earning the festival organizers the city of Atlanta's "Phoenix Award" for their efforts in captivaing the city's music culture with over 3,000 people from all walks of life and mastering the mission of unity through music with performances ranging from alternative rock to hip hop all under one roof .With the diverse musical and cultural appetites within a city rich in a history of great musical tradition, ONE MusicFest pledges to provide an environment that truly caters to the genre bending palette. For more information visit www.OneMusicFest.com and join the conversation @ONEMusicFest  & facebook.com/OneMusicFest
###
Also, if you've never been to the ONE Musicfest, here's a taste of last year's party to give you a clue of what to expect!!!


Hope West is a music enthusiast and music photographer who has captured artists like B.B. King, Janet Jackson, Teddy Riley and many others.  A life long lover of music, Hope is a graduate of Full Sail University where she studied music engineering. She's also a proud "Florida Girl" born and raised in Ft. Lauderdale, Fl. and currently resides in Atlanta, GA as a "Georgia Peach". Hope is known for her creativity, sense of humor and quirky perfectionism. Artist(s) that make her freak out as a music fan: Sheila E., Jimmy Jam & Terry Lewis, Quincy Jones.