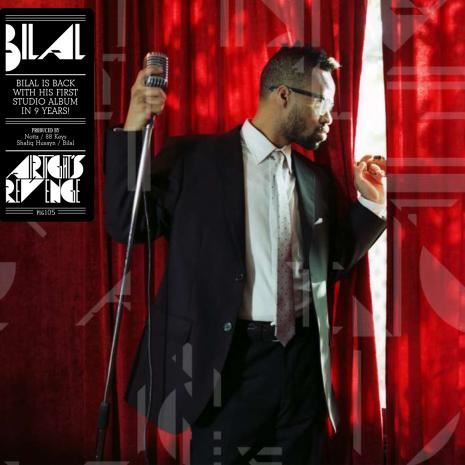 Bilal fans, your long wait is coming to an end. The new album, Airtight's Revenge is now available for pre-order! Enjoy this clip from a recent Belgium performance and hit the jump for the tracklist.
Shot & edited by Mikael Colombu for Attack Of The Crazy Dolphins Film Productions.

Permalink
First commercial released album since 1st Born Second (2001) which sold over 320k+.

Steve McKie (Jill Scott, Estelle, Kindred, Vivian Green) co-produced the album with Bilal. Also features production by Nottz (Kanye West, Snoop Dogg, Drake), 88 Keys (Mos Def, Macy Gray, Musiq Soulchild), Shafiq Husayn of Sa-Ra and Tone Whitefield.

Bilal has been featured on countless hit records with artists such as Jay Z, Common, The Roots, Erykah Badu, J-Dilla, Beyonce, Guru (Jazzmatazz), The Clipse, Musiq Soulchild, The Game, Scarface, Jadakiss, Reflection Eternal, Jill Scott, Mos Def, Solange Knowles, Robert Glasper and Lil Wayne.
Track Listing:
1. Cake And Eat It Too
2. Restart
3. All Matter
4. Flying
5. Levels
6. Little One
7. Move On
8. Robots
9. The Dollar
10. Who Are You
11. Think It Over

Shouts to CL