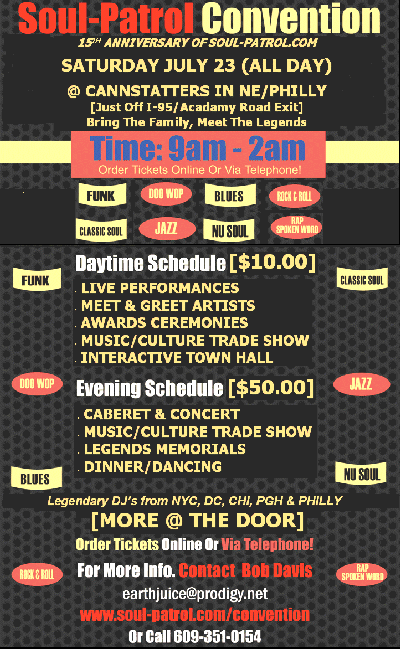 Philadelphia (and surrounding areas), get ready to celebrate the 15th anniversary of Soul-Patrol.com. If you didn't already know, Bob Davis of Soul-Patrol is one of the pioneers of the merging of online/offline marketing, technology, music, culture and events. The site is the definitive source of all things Black music. The convention is an extension of that vision, complete with panels, artist meet/greets, a trade show, an award show, live performances and fun for the whole family. You can order your tickets online or by calling 609-351-0154.
Soul-Patrol Convention Day Ticket – daytime session including: awards, panels, artist meet/greet, trade show and live performances ($10) Bring the kids for an experience they won't forget.
Soul-Patrol Convention Evening Ticket – evening session including dinner/dancing, artist meet/greet, lifetime awards, memorials and live performances from 8pm – 2am ($50)
Soul-Patrol Convention Combo Ticket – day and evening events ($55).
Hit the jump for the full schedule or Soul-Patrol for the latest updates!
MORNING SCHEDULE – Awards, Panels, Memorials Live Performances
9a Miracles Revisited The Miracles – Looking back and looking forward
o Moderator: Bob Davis – Soul Patrol,com
o Tony Elliot
o Mike Burt
9:30a Jimi Hendrix Revisited Jimi Hendrix – Looking back and looking forward
o Moderator: Cordell Dickerson
o Mike Tyler
o Morris Mills
10 a Plantation /Knee-Grow Radio Stations Where did all of the good music go? Is anyone still listening? Why should we care? In what ways do these stations do more damage to Black Culture? What are the alternatives? etc…
o Moderator: Kevin Amos
o Wayne Smith
o Divinah Payne
o Thomas Anderson
10:30a Live Music Performance
o Quiet Storm
o The World Famous Inkspots
o Ladys of Skyy
11a Miles Davis Revisited Miles Davis – Looking back and looking forward
o Moderator: Bob Davis
o Jason Miles
o James Mtume
AFTERNOON SCHEDULE – Awards, Panels, Memorials Live Performances
12:30p Concert
o Blu Lights
o Gary Lee
o Lee
o Loves Magic
o Melanie Charles
o Morris Mills
1:30pm Black Music Cultural/Social Impact How do we insure the future of this great culture? Do some of the answers lie in the past? Or has it's time simply come and gone? Etc
o Moderator: Kevin Amos
o Dr. Ricardo Wilson – Artist/Activist
o Abe Santiago – Author
o Dyana Williams – Broadcaster/Activist
o Alan Shellard – Broadcaster/Activist
o Susaye Greene Artist/Activist
2:15 Virtual Album Awards
o Dr. Ricardo Wilson
o One Sun Lion Ra
o Angel Rissoff
o Gary Lee
o Chyp Davis
o Kyle Jason
o Stephanie Mckay
o Selah Eric Spruiell
2:30pm Live Music Performance
o One Sun Lion Ra
o Angel Rissoff
o Billy Paul
o Legendary Escorts
3:15 Awards
o Elisabeth Withers
o Garland Jeffreys
3:30pm Who Stole The Soul From Rock n' Roll
o Moderator: Darrell McNeil – BRC
o Garland Jeffreys
o Derek McKeith
4:15pm Independent Artists Forum Why are there so many indie artists? How do they find an audience? How are indie artists promoted? How does an indie artist sustain a music career? etc.
o Moderator: Selah Eric Spruiell
o Chyp Davis
o Randall Grass – Shanachie Records/
o Warren Haskins – DEMBI/Family of Dell East
5p Concert
o Derek McKeith
o Julie Dexter
o Kyle Jason
o Rainey Vexen
o Stephanie Mckay
o Susaye Greene
o TNT
EVENING SCHEDULE – Dinner/Dancing, Awards, Memorials, Live Performances
8pm Cabaret Begins/Dinner Is Served
9pm Live Performance:
o Chantels
9:20 Awards
9:30 Cabaret Continues
10p Live Performance:
o Marshall Thompson/Chi-Lites
10:20 Awards
9:30 Cabaret Continues
10p Live Performance:
o Clarence Burke Jr Stairsteps Lead
10:20 Awards
10:30 – 2am Cabaret Continues