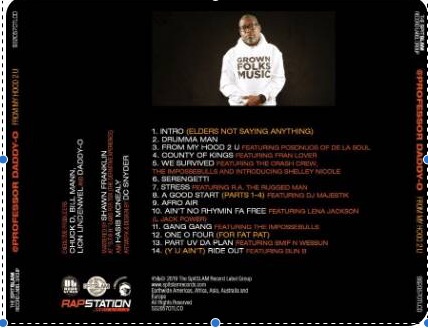 Convicted and convinced is what I'm left with after experiencing the latest project from a true legend in the game, the one and only Daddy-O! If you spend anytime on these here interwebs you know that word legend gets bandied about for seemingly anyone who had a bop or two from summers past. This is not the case here because the Professor's work in front of the mic, behind the board and in the boardroom speaks volumes.
From the Intro(Elders Not Saying Anything) that so aptly uses the intro of George Benson's "This Masquerade" as the music bed this listener was convicted. Convicted by the uncomfortable truth that the Professor lays bare – that elders have fallen down on the job by not constantly reminding the generations to follow of exactly where they come from. The disconnect.
Not that I would need any convincing at all(considering the source of this great set of music) but on Track 2(the lead single from the set) "Drumma Man" the line "I make hits because I'm a hit man" is equal parts proof and the pudding(just check the discography). But more than respect for a legacy of great music past, From My Hood 2 U is as immediate as this sweltering summer that we are experiencing. The now.
I should put an emphasis on now, because as Professor Daddy-O has gone on record to state with his challenging of the elders of Hip-Hop with bringing new creations to market (as opposed to simply resting on the laurels on bygone eras) From My Hood 2 U in my humble opinion is the show and prove that is sorely needed. It is no mere coincidence that From My Hood 2 U has been released on Chuck D's SpitSlam Record Group
The title track from the album features a collab with another legend in the game: Posdnuous (aka Plug 1). With phat drums, scratching, lyrical sparring and a chorus that interpolates Sly's "Thank You (Falettinme Be Mice Elf Agin)" #Growns this is Hip-Hop!
On "County of Kings" feat. Fran Lo, Brooklyn is well represented. But Brooklyn is not the only thing well represented on From My Hood 2 U. To these ears there is so much care, taste and respect taken to represent music. I'm of a certain age and I will be the first to admit that for me the Hip-Hop I gravitate to has a certain aesthetic. I'm not a purist, nor snob(well… maybe not) but when I hear great sounds of funk, jazz and r&b mined and married to punchy drums – I'm listening. I don't think that there's any expiration date on Hip-Hop that is produced in this manner. It's a rarefied skill these days where some producers choose the path of least resistance by plugging in what I would describe as a paint by numbers approach.
I certainly don't want to contradict myself by creating more of a divide or disconnect of the generations. What I'm stating is a preference and I think there's nothing wrong with having and stating what moves you. Perhaps if we move the disclaimer of time from music and just deal with what's great and what's not regardless of era perhaps we can bridge that very gap that the Professor outlines so well.
I believe From My Hood 2 U is the soundtrack to begin that very work in earnest.
From My Hood 2 U out now on The SpitSLAM Record Label Group. Purchase your copy and share with your friends in fam who will appreciate what Professor Daddy-O has brought to the fore here.
Ivan Orr is a multi-instrumentalist, composer, performer, and writer. A native of Charlottesville, Virginia Ivan was involved with the forming and nascent days of The Music Resource Center as its first Program Director. A graduate of Virginia Commonwealth University's Department of Music, Ivan currently resides in Richmond, VA where he maintains an active performance and production schedule while serving as the Music Editor for Grown Folks Music, a position he has held since 2010.