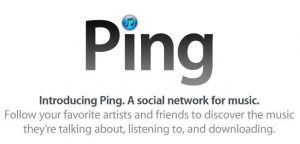 A great article posted by a great friend to GFM! Here is the direct link to the original blog post.
Posted by Kaniele on Tuesday, September 14, 2010
Why would you sign up for Ping?? That's the question that lots of Apple and iTunes users have been asking in addition to artists. Ping is Apple's version of Facebook/Twitter that allows people to network on their iTunes platform. The idea seems lofty; people are heavily using the other sites currently. To add another network would be to build up your followers all over again. Apple however has the benefit of being the proprietor of the largest record store on the planet. That power can be a blessing and a curse.
So let us dissect this a little bit….
Currently there is way more cons to the service than pros. One huge issue I have as a music fan is that many of the "indie artists" that I love do not have pages. They will need to be invited by Apple first. Twitter and Facebook don't require this. The artists that have pages are obviously being handled by the labels rather than personally which again takes away the true networking that could be accomplished by the actual artists interacting. Also, the layout starts to get really cluttered after awhile. I can't imagine what it will look like once people really start using the service. There is no clear benefit of adding friends versus artists or both. Concerns I have are royalty and packaging/pricing issues that Apple has historically had. I do not purchase from iTunes when I know that the artists are being shortchanged in any way. I would hope that Apple works this out to the artists' benefit before this really gets going.
The pros that I see are in the potential of the service. If music blog sites (maybe even rather than artists themselves) utilized ping, it would allow you to explore the artists that are highlighted with links to previous/other work that they've done. What I love about iTunes is that you enter and artist and anything they are credited on will populate. Another pro of blog sites using the service would be getting a more personalized music experience based on the music you like which could in turn offer more selection combining the sites offerings with Genius. As a consumer, I am much more interested in variety. Having artist specific pages is encouraging the Stan mentality rather than musical diversity.
Another benefit would be adding a "one stop shop" for frequent readers of said blogs. If I had access to say "Grown Folks Music" on ping, I could see and shop all in one location. It would be in lieu of the websites or even Twitter and Facebook, but in addition to. I would also like to see DJ's using ping more to highlight some of the artists that they incorporate into their mixes.
I realize that this is new technology and Apple has consistently shown that they will continue to revamp a product until its perfect so I have no fear that in maybe the next few months this will be a product I will use more. I just hope that they listen to both the indie artists and the fans in opening up their social network…so we can indeed network.
About the author: Dani Hill- Pretty random…just…you know…doin me. I appreciate sunshine in any form. Add me on Ping…Kaiulani Hill!!
You can also follow Dani on Twitter @KaiulaniHill