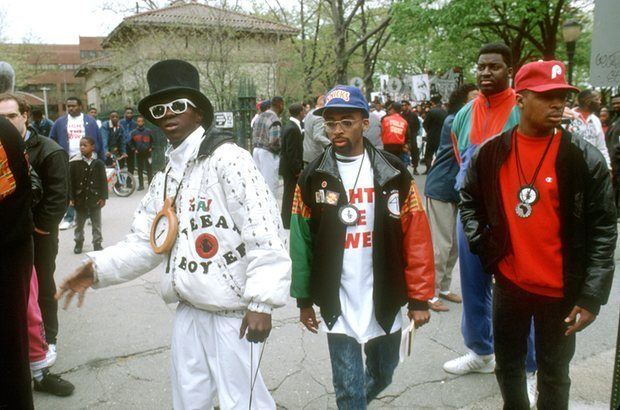 Were they(we) not serious? This sentiment is coming back around again in a slow drip as I see it(it has to). Summer '89 into Fall and forward into the 90's lots of folks stopped playing with the beats and realized that it was just as important to use your hands and mind in a deliberate revolutionary manner as it was to have the release of "throw your hands in the air" for the carefree weekend.
How serious? Maybe I was extreme, maybe I was in the minority(I don't think so) but there are 72 miles separating my hometown of Charlottesville, Virginia and my home now, the State Capitol Richmond. In '89 it was simply a Friday day trip to see a friend enrolled at the university where I am now employed and also an alum. Pressed play as we merged onto 64 East and continued to press rewind and play on Public Enemy's "Fight The Power" for all 72 miles.
Convicted by not only the production of The Bomb Squad, but the words: provocative, immediate, actionable, resonate. It was as if Chuck D. assisted by the punctuation of Flavor Flav had summoned all the anger and frustration that I felt as a 19 year old black male living in the schizophrenic Just Say No/Crack Era Amerikkka. This was the power of the write, the word, the words animated by that unmistakeable baritone in a clarion call to action.
1989 the number another summer (get down)
Sound of the funky drummer
There was no mistaking the moment in time from this first line device – summer hot, end of a decade. Leading the march a drummer as funky as '69, hell maybe as funky as 1619. But further down the line Chuck gives us the formula and the inspiration for this post:
As the rhythm designed to bounce
What counts is that the rhymes
Designed to fill your mind
Those rhymes(written) imploring us to fight for what's(right) our (rights) have filled my mind for the 27 years that they've been inhabiting the atmosphere. A soundtrack. A mantra. Nutrients designed to keep me alert and awake to combat the inundation of sugary non-substantive offerings that the industry of music so often favors over the real.
My beloved lets get down to business
Mental self defensive fitness
This line reminds me that there's far too much time spent on keeping people in line and having them swear allegiance to ideas and ideals not intended to benefit them. What would this world look like if we trained these babies(and some of these adult babies too) to be mentally self defensively fit? You can't bully me because I know who I am? I don't need you to affirm me because I'm mentally fit enough to affirm myself, because I spent a lot of time around those who affirmed me first. It's like we're so impressed with the physical exploits of athletes. Corporations pay a premium for those athletic skills and shine a bright light on the athletically gifted personalities but what would be the net result is the same zeal and fervor was placed on first round draft pick minds? This is not a bash of sports at all, it is a call for balance: mind, body and spirit. We're making beautiful but empty cathedrals… a strong and formidable building outside with no thought or spirit inside.
Author's note: Curiously these lyrics are censored on the Google Play site. They are presented here in uncensored form.
Elvis was a hero to most
But he never meant shit to me you see
Straight up racist that sucker was
Simple and plain
Mother fuck him and John Wayne
'Cause I'm Black and I'm proud
I'm ready and hyped plus I'm amped
Most of my heroes don't appear on no stamps
Sample a look back you look and find
Nothing but rednecks for four hundred years if you check
Don't worry be happy
Was a number one jam
Damn if I say it you can slap me right here
(Get it) lets get this party started right
Right on, c'mon
What we got to say
Power to the people no delay
To make everybody see
In order to fight the powers that be
This last verse was/is everything to me. I was raised on baseball, hot dogs, apple pie and Chevrolet, The Duke and "The King" (well not really). Those are the images that permeated my little black and white television I had as a small child. Those were the images that were supposed to represent all that was good and 'Merican. Public Enemy gave me permission not only to question the iconography but the ideology that propped up those "icons" in the first place. Righteously placed there's nothing wrong with a shit or a mother fuck… I had to state that for the more puritanical among us who often miss the message whilst being offended.
There is so much power when we write for the right reasons. I feel that so many opportunities are missed with every innovation in technology because so many are stuck on stupid. I mean it's not enough to watch "Reality" television, no you need to spend your days reading, commenting on and re-posting the latest from the gossip blog du jour. Those folks should #GetGrown. But unfortunately, everyone's a follower so then the gossip blog becomes a music blog and music blogs become gossip blogs all the while would be inspired musicians choose to write about the trap, the club, the rain because that's what someone told them sells and it loops back around because that's all that is played and we all get played. All I can say is:
Write now. Right now.
I am writing now because I still feel empowered to fight for what's right because of this very special song from a very special group that helped to change my worldview. The challenge now is to inform others to combat the ill-informed writing that's designed to make one's mind and mission impotent. For you see the powers that be are often closer than you think… start with the tv, phone, and computer screen for what you're inputting into your mind and spirit. Then look into the mirror for the resulting output. If you don't like what you see it may be time to write your own manifesto to get some get right/ack right to "Make yourself see, in order to fight the powers that be".
Peace!
Ivan Orr is a multi-instrumentalist, composer, performer, and writer. A native of Charlottesville, Virginia Ivan was involved with the forming and nascent days of The Music Resource Center as its first Program Director. A graduate of Virginia Commonwealth University's Department of Music, Ivan currently resides in Richmond, VA where he maintains an active performance and production schedule while serving as the Music Editor for Grown Folks Music, a position he has held since 2010.