Singer Marx Solvila is bringing new music all the way from Mil-Town, aka Brew City, aka Milwaukee, WI. The same city that brought the world the likes of the late great Al Jarreau and Eric Benet. Marx Solvila is a soul singer, writer and producer, and his new debut EP Black Opium showcases his soulful, smokey voice that is reminiscent of Anthony Hamilton and Al Green.
Along with his amazing vocals, his resume is just as impressive having worked with Wyclef Jean on two of his songs from his Carnival III album, along with sharing the stage with Wyclef during VH1's 20th Anniversary of Save The Music honoring Queen Latifah. Marx has also had the pleasure of singing backup for Smokey Norful and Lisa McClendon, as well as being the guest vocalist for the Milwaukee Symphony Orchestra.
Do yourself a favor and  click the link below to check out new music from Marx Solvila debut EP on Spotify. You will not be disappointed, and Marx Solvila is Grown Folks Music approved.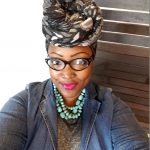 DJ CatEyez is just a lover of music who happens to be a wife, mother, Naturalista, baker, blogger, and wannabe biker chick. (Harley's RULE!) Check out her natural hair blog Going Back to my Natural Roots at 2dimplz.wordpress.com.