Singersroom celebrates Black Music Month with a month-long tribute examining major genres in black American music with a critique of today's rhythm and blues. Each week in June will feature specials on Singersroom.com, such as:
"Icons Speak" – Conversations with Teena Marie, Nona Hendrix of Labelle, Bryan Michael Cox among others on the influence and growth of black music, and the future of black music.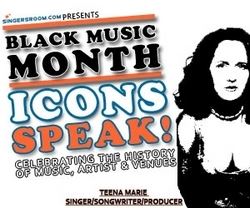 "One Album, One Legacy" – Editorial focus on the significance of the artists' albums that capture an experience and emotion of a time period (featured artists Bilal, City High).
The Apollo Theater 75th Anniversary – Artists (Trey Songz, Ginuwine, Chanj) remember their first time performing at the Apollo Theater.
Photo Galleries – Free Your Mind: R&B's Top Socially Charged Hits and Amateur Mic: Apollo Certified R&B Icons
In celebrating Black Music, R&B artist Trey Songz describes his relationship with music saying, "Music shows you the ups and downs of love. Music teaches you, music can be cruel; it shows you the joyous side of love and I think that is the most beautiful thing about music."
Black music is, has and is currently inspiring the lives of fans across the world because it taps into a wide array of emotions. "Black music has been a resource for entertainment and culture that effected individuals lives beyond ethnic barriers, says Gary Gentles, CEO of Singersroom. "Singersroom is highlighting a piece of music that has become our soundtrack to life."
To read, watch and listen to special features on Black Music Month, visit Singersroom.