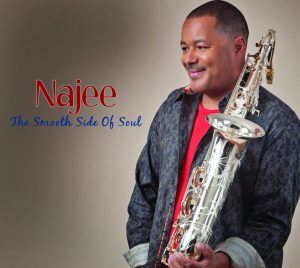 On The Smooth Side Of Soul we find Najee serving up a set that is distinctively soulful yet uniquely universal. The music contained herein does not reside in one zipcode but ranges from Uptown to Downtown to a South American Playa. Bright melodic, skillful playing is the order of the day here and Najee plays with a joy that you can't help but caught up in.
Najee use of the different colors of the Alto, Tenor, Soprano and Flute give the listener almost the sense of moving to a few different sound stages, which provides the feeling of a journey, a tour if you will around a few different cities of soul. Covering the different horns with equal facility is not an easy task but Najee as he has done over the arc of his career moves from horn to horn with a deftness that showcases his fantastic musicianship.
With great tracks like "Sound For Sore Ears", "You Tube","Perfect Nites", "One Night In Soho" and "Just To Fall In Love" The Smooth Side Of Soul is primed to become a go to set for your listening experience at dinner, in the ride or the after dinner living room sit down. Some great guests appear on the recording in the personage of Phil Perry, Jeff Lorber, Pieces Of A Dream's James Lloyd and Chris "Big Dog" Davis as well as Will Downing on the co-writing duties and backing vocals on "Just To Fall In Love".
The recommendation here is: Pick up The Smooth Side Of Soul from Najee today and enjoy it tonight.

Ivan Orr is a multi-instrumentalist, composer, performer, and writer. A native of Charlottesville, Virginia Ivan was involved with the forming and nascent days of The Music Resource Center as its first Program Director. A graduate of Virginia Commonwealth University's Department of Music, Ivan currently resides in Richmond, VA where he maintains an active performance and production schedule while serving as the Music Editor for Grown Folks Music, a position he has held since 2010.