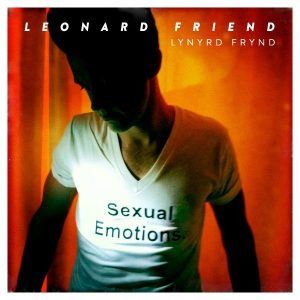 Leonard Friend is the alias of one Alex Feder. Named after his grandfather who left music for a career in sales, the talented new artist and dancer could very well give Justin Timberlake a run for his money (whenever he actually decides to do music again). Out today, Friend releases his 8-track EP entitled Lynyrd Frynd.
Mixing the genres of pop and R&B, Feder crafts music that is quite danceable (first single "Serious Music") and quite serious ("The Year I Die") as well as tunes meant for the ladies ("Mrs. Friend" and "The Last Gentleman"). If you haven't caught the video for "Serious Music," check it out below. It was partly inspired by a performance by the late King of Pop back in '93, when he performed sitting down because of a sprained ankle.
In a recent press release Friend says, "The reason I came up with the seated idea for the video is because I tore my ACL and had surgery to repair it and didn't want to wait until I was fully recovered to make a video" … "I remembered a Michael Jackson performance at the Soul Train awards in 1993, where he sprained his ankle during rehearsal and performed sitting down. When I got up to dance that day at the end of the video, that was literally the first time I had danced in five months. We saved it for the end of the shoot in case I re-injured myself (which, thankfully, I didn't)."
Download Lynryd Frynd EP for free via the artist's website.