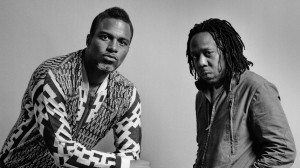 Here are the new visuals for experimental rap group Shabazz Palace's latest single "Are You…Can You…Were You…? (Felt)." Well, sort of.
The song is from the duo's debut Sub Pop release Black Up (which dropped last summer), but the video features a mother and daughter speaking in their native language as the two have a typical mother-daughter exchange: disagreeing about the girl's way of life and style of dress. The group is nowhere to be found.
Shabazz Palaces includes Ishmael "Butterfly" Butler, one-third of seminal 90's hip-hop-jazz trio Digable Planets, who are best known for hits like  "Rebirth of Slick (Cool Like Dat)" and "Where I'm From."
Right before the release of Black Up last year, I had the chance to interview Butler over the phone…and I have to say, he was just as evasive in conversation as this damn video is. If you haven't heard Black Up, it is a refreshing mix of glitchy, experimental hip hop. One of my favorite albums of 2011.