The GFM Family is proud to present the work of up and coming musical curator Soul Bravado. You can check him out here and on Twitter @SouLBraV .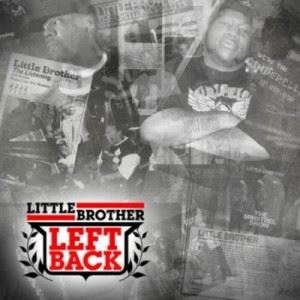 Christopher Glaser defined Chemistry as a scientific art by which one learns to dissolve bodies, draw from them the different substances on their composition, unite them again, and exalt them to a higher perfection. I define chemistry as Little Brother Music. Not everybody is blessed with the skill or natural talent to scientifically craft genius. Leftback, sadly, is the last studio album for the duo Phonte and Big Pooh. So for fans, expectations were raised highly.
"Curtain Call," their debut track from the Album left no doubt that LB was destined to produce one last classic. Phonte and Pooh complement each other perfectly on the track to generate yet another Little Brother masterpiece. Tae proved once again that his vocals didn't remove him from hip-hop, with tracks such as "Table for Two," "Go Off Go On," and "Before the Night is Over." Pooh, often criticized for his lack of lyricism, taps into the life of a single Rap Artist, with "What We Are," arguably one of the best solo tracks he has released. Together Tae and Pooh grabbed their Hall of Justus family for tracks like "Revenge," "Second Chances," and "24" which easily could be added to their resume of LB classics. But if you want raw hip-hop, "Get Enough Pt. 2" is what u need. With super producer Khrysis on the board, LB without a doubt proves their superiority in this new age of rap.
There were a few downsides for LB fans, with the remake of tracks such as "After the Party," and "Two Step Blues" in which the same vocals were used but over different melodies. Lyrically aggressive, but the beat throws repeat listeners off quickly to dislike. GIVE IT A CHANCE, it's still the LB we've grown to love. Another disappointment would be the only 9th Wonder produced track on the album, "Star." With the falling out of their original beatmaker extraordinaire, we can easily assume that chemistry would be hard to produce over tension. But if you're looking for "The Minstrel Show" on this track, lower the bar a little fam. Lyrically and production value remains but that something the trio had is now missing.
Overall, Leftback is a sound closing Album. And with both Phonte and Big Pooh working on solos, LB might be finished but they're not dead. No need to ask, it will be in my tape deck for a few weeks.