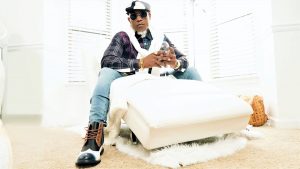 "I realized over the years that there are so many people out there that feel exactly as I do and who need
that deep belief to be nurtured so that it can flourish. That's why I just write from my heart." – Calvin Richardson
There was no way that I could begin this review of Calvin Richardson's latest Gold Dust (out now) without those eloquent words from the artist himself. Often many come to the table, to the marketplace with a pronouncement that what they're bringing is "All about love…" with Calvin Richardson you immediately know that love is at the center because you can feel it.
Writers write. Singers sing and sometimes if we're really lucky those two imperatives can exist in an artist simultaneously. Calvin Richardson is a writer's writer having recorded with and written songs for
everyone from Angie Stone and Raphael Saadiq to Charlie Wilson. He co-wrote Wilson's hit "There Goes My Baby" with Babyface. In tandem, Calvin Richardson's voice (which he lost use of in early 2018) is back to assure us that not only does the South still have something to say it has something to sing like on "Ain't Nothing Like The One I Got".
That's the kind of song that you can only sing if you've had your fair share of Merita Bread and Cheerwine. I don't know if Calvin Richardson has ever partaken in these delights but I know when I think of my beloved North Carolina(the Queen City specifically) my mind drifts to hot summer days with family that loves on you and when they talk it's a song. "Let Me Love On You" reminds of that feeling of how grandma loved on me so that I could understand what makes up that emotion so that it would serve me well and those I love well later in life.
Speaking of grandma and 'nem… let me tell you about "Still In Love" on this set (no it's not a cover of the Al Green classic) however it's one helluva tribute. Organ, backgrounds, guitar lead lines and strumming, horn section complete with bari sax, that unmistakable driving drum beat and Calvin's delivery embodies the best of a Willie Mitchell/Al Green collab. For a minute I felt like I was riding in the back of daddy's '74 Deuce and a Quarter on I-77 with the 8-track pumping looking for that exit to get to grandma's house.
Gold Dust is a set that falls squarely in the Grown Folks Music canon. From the bridging the gap nod to the Manhattans "Shining Star" to the triple meter finger snapper "She Never Had A Real Man Like This" and the fun of "Macaroni & Cheese" that's a great beginning to your cookout playlist right there. But wait, there's more… like the slide across the floor opener "If You're Thinking About Leaving" which I'm predicting will soon be accompanied by exclamations of "Awww lord!!!" when the intro kicks off.
But if you're looking for a contemplative anthem that will put you in every single feel that you have, you know the kind of tune that if I was a music supervisor I would place to play in the climactic driving down the highway flashback scene, yeah that one. "Be Your Friend" is that tune. That's an instant late night classic right there.
As I often state there's no excuse for the now well-worn tired trope that has been trotted out over and over again the last fifteen or so odd years that "they don't make…" I'm not going to even say it. Even at today's years old I still don't know who "they" are. No need to worry about them when Calvin Richardson is making music like he's making right now.
I will implore everyone who reads this to do what I implore folks to do offline which is to take time out to make new memories. Nostalgia can be a very necessary salve from time to time but because it lives on the corner of Been There and Done That it doesn't regenerate and provide the vitality that participating in a Newstalgia(copyright/trademark pending) does. So here's what you can do this weekend and on into the coming months and year: sprinkle a little Gold Dust from Calvin Richardson on your ears and into your soul.
Gold Dust from Calvin Richardson out now!
Check out "Be Your Friend" from Gold Dust, and drop us a line with your thoughts on this great artist and great art.

Ivan Orr is a multi-instrumentalist, composer, performer, and writer. A native of Charlottesville, Virginia Ivan was involved with the forming and nascent days of The Music Resource Center as its first Program Director. A graduate of Virginia Commonwealth University's Department of Music, Ivan currently resides in Richmond, VA where he maintains an active performance and production schedule while serving as the Music Editor for Grown Folks Music, a position he has held since 2010.