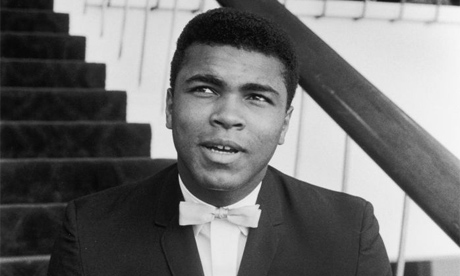 As I often write in the confines of these pages… it's personal. Loss, admiration, a love of a being, a figure not only outside of yourself but outside of your sphere of connectivity. How does this happen? I'm so glad it happened and over the past few days I've had some time to reflect wholly and completely because of my decision to be still and quiet. That's a personal decision and not a critique or criticism of anyone else, it's just that for the last several days I decided to be quiet and reflect on Superman leaving this plane to ascend to even higher heights.
Yes for me a little brown boy growing up in the Southern part of these here United States in the 1970's Muhammad Ali was the living embodiment of Superman to me and so many of my peers. First things first though – I would be remiss if I did not explain the quote in the title. That phrase is often used at times like these… times of grief, reflection and ultimately celebration. Often we try to hold things in and then all at once a reminder – a word, a look, a remembrance brings all those emotions forward. You see I fell asleep Friday night early concerned about the condition of The Champ, I know those calls to the hospital all too well having dealt with a sick father who was The Superman I could see and hear daily for some 31 years of my life. Early Saturday morning I awoke to the news of Ali's passing like many others and instead of running to post my feelings (as I often do) this was different, this passing caused me to seek solace, in fact to even take a break from reading/watching the well-deserved outpouring of love and condolences. That was until… last evening when I decided to get my head out its veritable place in the sand and check a few things out when of course I came upon this clip of Billy Crystal performing "15 Rounds" which he did at Ali's 1979 "retirement" celebration. As I clicked on the clip I froze because all those vivid, vivid memories of watching not only this show but all that I watched of Ali as kid came rushing back and like I said I. Was. Good. Until. So if you haven't seen this tribute take a minute to check it out and after I have some closing words about my second hero.
Billy Crystal's Muhammad Ali tribute – 15 Rounds (1979) from Face Productions on Vimeo.
I was born in 1970 which for a lot of us kids of that era I knew nothing of Cassius Clay. I mean I truly believe it was years before even heard the name and my young mind was truly on some "Who's that?". I only knew a little bit about the Vietnam War – having heard of my older brother's service there and wounding which brought him back stateside a few years before my birth and that incident as retold by my sister was one of two times she saw our father weep. So I didn't know anything about Superman refusing induction into the Armed Forces but understanding and appreciation for his stance would come later. No these early times of getting to know and love my second hero behind my dad was all about ABC Wide World of Sports and Howard Cosell and the numerous other appearances that Ali made on television in print and on record. I consumed it all and my parents started to take note and were ardent supporters of my love of The Greatest. From clothing to posters, to his records with his raps I took it all in… whenever an appearance of his was going to happen on television my folks made sure I knew about it and would not only allow me to watch it(sometimes late into the evening) but would watch with me.
At that age I had no idea what affirmation was. I knew who Ali was, I knew that he said that he was a pretty man. He looks like me – I must be a pretty little man too was my reasoning at the time. He was fearless. Spoke his mind. Stood up for what was just. No, not perfect none of us are for we are all human. However, I always felt you were going to get the truth from Ali and in many ways that's where I felt a kindred spirit between he and my dad – just straight up no-nonsense guys willing to go to bat for their people, unafraid to stand their ground and let the powers that be know that they are to be treated and respected as the men that they have made themselves.
That's where the wellspring of emotion that overflowed was coming from the: realization of how lucky I am and that we are all… all of us who have had men like this in close and not so close proximity in our lives. I would like to say this… I know it was not always easy for Ali to be the person that he was: confident, outspoken, unapologetically Black. I watched with much confusion the change in public perception around Ali from the 70's – 90's I mean he was always a national treasure to me but…
I'll just leave you with this… in the mid-1990's as my mother's teaching career was nearing a close and I had it in my mind that I was a "man" and I'd seen it all and heard it all and jaded was my middle name – my mom gave me a call and when I picked up the phone I was met with an excited "Guess who came to my classroom today?". Ol' groggy jaded not wanting to play along me responded with a less than enthusiastic "Who?" then the words "Muhammad Ali" sprang forth from her mouth almost like a young school girl. I paused… and for and brief moment I was transported back to being that 5 year old who could quote Ali at will, practiced the footwork and the flurries and combinations night and day and was all about all things The Greatest. Mom went on to tell me that Ali had visited the other first grade classrooms at her school but he took a special liking to her room and even though he was in middle stages of Parkinson's at this point there was a telepathic knowing and kinship in the way he looked at her as if to say "I'm here for you, I do this for you because I've always been The People's Champ!" Yes sir you have. Yes indeed sir you have and will forever and always be!
Rest well.
Ivan Orr is a multi-instrumentalist, composer, performer, and writer. A native of Charlottesville, Virginia Ivan was involved with the forming and nascent days of The Music Resource Center as its first Program Director. A graduate of Virginia Commonwealth University's Department of Music, Ivan currently resides in Richmond, VA where he maintains an active performance and production schedule while serving as the Music Editor for Grown Folks Music, a position he has held since 2010.