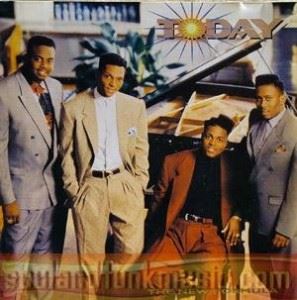 The New Jack Swing era was definitely a period in time that no music partisan could ever forget. All thanks to Mr. Bernard Belle and Teddy Riley (who's Bernard Belle? do your homework!). Originally dubbed The Gents (consisting of former members Ronald Scruggs and William McNeir) the group put out one song, "For You My Baby Love", and shortly after, broke up. Two [new] members joined the remaining fellas; they soon signed to MCA Records and thus began the birth of the group Today.
The Englewood, New Jersey childhood friends, Frederick Lee "Bubba" Drakeford, Larry Singletary, Wesley Adams, and Larry McCain, were discovered by none other than Mr. Teddy Riley, who actually re-named the quartet and helped them ink a deal with MCA Records. Not long after signing, Jheryl Busby, head of MCA's urban department, moved over to Motown Records and Today followed.
They released their self-entitled debut album and dropped their first single, "Him or Me" (do you want hiiiiiiiiiim….) and followed up with another successful single, "Girl I Got My Eyes On You". The group toured the states along with other artists signed to Motown, at the time, and became very well-known.

In 1990, Today put out their last album entitled "The New Formula" (not produced by T.R. due to promoting and production differences) and released the popular party jam "Why You Getting Funky on Me" which was also featured on the popular hip-hop movie House Party. Two more singles off the album were released but failed to have the same success. Unfortunately the group split up and each member went on to do solo projects, background vocals and songwriting.
They have yet to re-unite or even speak of a new album (and I doubt they will). But that doesn't mean the people aren't curious as to your whereabouts now, so…… GFM wants to know, where are you? You are missed.
If you got the info, then let us know!
contact [at] grownfolksmusic [dot] com
KayBee (ItiZwutiTizZ)