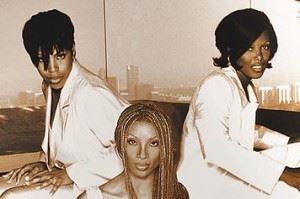 Harmonies, melody, range; the list could go on and on. But for Maxee, Mimi & Nicci those were a few of the key elements that brought this group's vocal abilities so seamlessly together. This in turn, gave us the unforgettable sounds of Brownstone.
Formed in 1993 in Los Angeles, Ca, Charmayne Maxwell, Monica Doby and Nichole Gilbert met and after seeing each other on several auditions they'd attend around the city. Close to a year later the three formed and were soon signed to the late, Michael Jackson's MJJ Music label (distributed through Epic Records). Their 1995 debut album From the Bottom Up was an instant success. Releasing singles like "Pass the Lovin", "If You Love Me", "Grapevyne" and their soulful remake of the Eagles classic "I Can't Tell You Why", the trio definitely made their mark and set a standard for other acts that followed.
What, in my opinion, also gave Brownstone a distinct added bonus was Nichole "Nicci" Gilbert's contribution in co-writing 11 of the 12 songs on the album which rewardingly led to a 1995 Grammy nomination(for best female R&B group) and a Billboard Music Award.

Unfortunately soon after the ladies finished touring, Monica 'Mimi" Doby left the group due to her hindering ailment of bronchitis and was replaced with another vocalist, Kina Cosper of Detroit, MI.
Two years later Brownstone, with a new member and a new look, released another album Still Climbing and put out the single, "5 miles to Empty" which, by fans, was considered one of [the] most overlooked albums in 1997.
Since then the group members have added other members and have gone on to have their own individual success (in the industry and outside) but as of current, no albums have been recorded together.
Melodic, harmonious and voices like no other; often imitated (I won't mention those groups) but never duplicated. Yes, Brownstone.
GFM wants to know, where are you? You are missed.
If you got the info, then lets u know!
contact [at] grownfolksmusic [dot] com
KayBee (ItiZwutiTizZ)