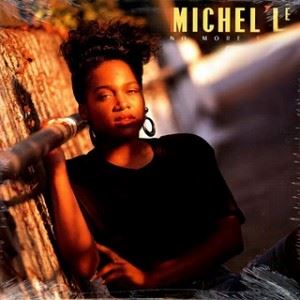 Even if you are a little familiar with West Coast artists in the late 80's/early 90's, whether it be rap or r&b, this young lady definitely stands out as one of [the] most conspicuous voices, literally; both speaking and singing, of all time. Although her girly voice was that of a falsetto tone and a distinctive contrast to her singing voice, her womanly vocals proved her to be well ahead of her time.
I can remember listening to "Turn off the Lights" by the World Class Wreckin' Crew (you know w/Dr. Dre, before N.W.A and the gangsta ways and the Chronic) and trying my best to get up all the air in my lungs and sound just like her singing that hook. "before you turn off the lights, let's get one thing understoooood…" (what the hell-o did I know about turning off somebody lights?*side-eye*)
Her voice was strong, it bodacious, it was what a singer should sound like; it was everything that hook needed to be to make the song as infamous as it was.
It was none other than 18 year old Michel'le Toussaint aka Meesh-a-lay.
In 1989 Michel'le hit the scene with a well known singing reputation from her early days with the World Class Wreckin' Crew and signed to the late Eazy E's record label Ruthless Records. She released her self-entitled debut album and dropped popular dance/up-tempo songs like 'No More Lies", 'Nicety" and "Keep Watching". Her fourth single "Something in My Heart" was a very soulful and sultry ballad that had great success and became one of Michel'le's most popular songs to date.

In 1991 and no other releases at the time, Michel'le had a baby boy with famed producer Dr. Dre and took time off from recording.
Approximately 8 years later (1998) Ms. Nicety released her second album "Hung Jury" (Priority Records) which didn't do quite as well as her first album however Michel'le remained relevant and seen due to the success of what was considered the new west coast empire, Death Row Records. She, aside from her business relationship with Marion "Suge" Knight (Co-founder of Death Row records) would also develop a personal one which led to a relationship (rumor has it they were married while he served a 9 year prison term) and the birth of their daughter Bailei.
Since her last album release and her most recent feature on the 2003 "Dysfunctional Family" soundtrack, there's been nothing else from The Urban Betty Bop *shrugging shoulders*, so…
GFM wants to know, where are you? You are missed.
If you got the info, then let us know!
contact [at] grownfolksmusic [dot] com
KayBee (ItiZwutiTizZ)
p.s. I always wanted her and Yo-Yo (west coast rapper) to do an album together! That would have been awesome.
Permalink