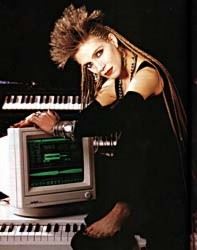 Born, Jane Richman, this Canadian, "vanilla vocalist", in my opinion, should be listed amongst the influential acts of the early 90's. When I first fell in love with New York I can remember watching her video over and over again. Her look was so distinct and she had the voice to match. That demanding intro set the tone for what most r&b/pop lovers remember to be a classic "Ain't no personal thing, boy, but you have got to stay away. Oooooh, far away from my heart…"
Who could forget that chain connecting from her ear to her nose (was I the only person that thought if she turned her head the wrong way, her ear would rip off?-don't laugh I was young) and those long braids that almost touched the ground. Jane Child's sound was definitely of the New Jack Swing era (Teddy Riley's remix was sick) with her own funky eccentric twist on it. Her 1990 hit "I don't wanna fall in love" was a mix of head bopping, hand-clapping, synthesizing arrangement. The classically trained musician [slash] producer/writer contributed the majority of the material, including production, to her self-titled debut album which wasn't something most female vocalist were known for. She was a triple threat and respectively earned comparison to acts like Teena Marie and recognition from one of the best to ever do it, Prince.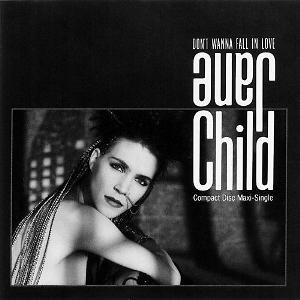 Her sophomore single "Welcome to the real world" wasn't as triumphant as the first but peaked at #49 on Billboard 200 and was also featured in the 1988 movie "Married to the Mob".
In 1993, Child released her second album entitled "Here not there" which was mildly successful. Even though the album provided great range and, again, displayed her superlative songwriting abilities it failed to make the imprint intended due to what some reviewers classified as "all over the map musically and difficult to promote and market".
Between taking a hiatus, from 1996 – 2001, and still working on other various projects, Jane Child still found time to write, record, and release her third album, Surge. In 2001, the album was released on her website and off her own label, Sugarwave. It's been said that Child had a fourth album that has yet to be released but after much research, nothing found. The people that recognize and appreciate this musical genius, yes I said it, can definitely understand when I say Jane Child was a talent that was underrated and overlooked. But here at GFM we especially celebrate those artists.
So, GFM wants to know, where are you? You are missed.
If you got the info, then lets u know!
contact [at] grownfolksmusic [dot] com.
KayBee (@ItiZwutiTizZ)