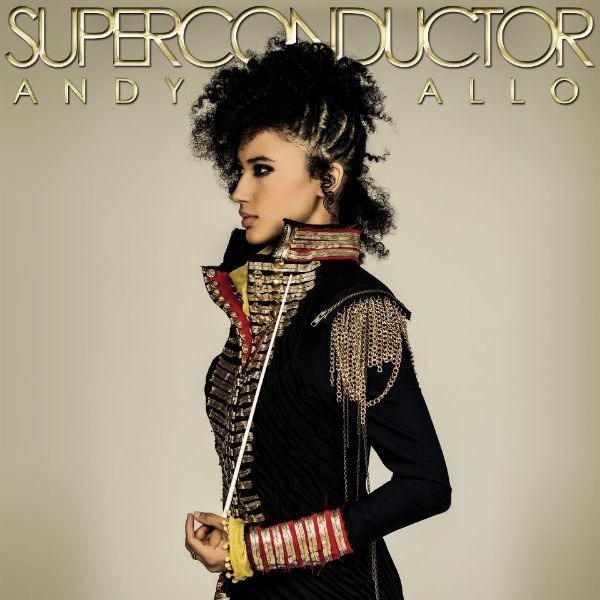 After donning the stage with his Royal Badness on the "Welcome to America" tour, there has been a stirring curiosity surrounding the Cameroonian-born guitarist and vocalist, Andy Allo. While some may be familiar with her face from television series like The Game and her 2009 debut album, Unfresh, Allo's sophomore project, Superconductor not only grabs your attention but creates a remarkable declaration of her talent and individuality as a musician and songwriter. Without question, Superconductor is brilliantly styled in the garments of funk, soul and R&B with a fusion of vulnerability, sensuality and thoughtful inspiration.
When you first turn the ignition on the album, the title cut, Superconductor is drum majored by a whimsical energy driven by the synthesized funk of the Minneapolis Sound. What makes the song so attractive is its playful eccentricity and if you listen beneath the melody line you might catch the flirtatious footprint of Christopher Tracy's Parade mischievously sticking its tongue at you.  For my funk fans, People Pleasers will be your go to track without question. It's as if Allo spent some time on the P-Funk Mothership with a Bootsy inspired bass along with horn arrangements that can be laid back or have a James Brown disciple in execution courtesy of Maceo Parker, Trombone Shorty and Prince.
When you dig a bit deeper into the Superconductor diary, you see a skillful tenderness warmed by an intriguing honesty.  The cut, The Calm is more than a song; it's a melody of philosophical reflection. Inquisitive in spirit, the lyrics highlight the contradictions we often make in the name of love. Equally satisfying is the acoustic composition, Story of You & I. This song has celestial notes that will make you close your eyes and cradle you close to the heartbeat of a lover. This song is sung with such intimate conviction and the lyrics have a metaphoric description that paints beautifully:
Every night you enter me as the sun enters the sea

(when we just close our eyes and hold each other tight)

Ever ending moon beam, tides rise and recede

(Angels from the starry sky, sing to us every night)

Convergence of the highest order, deeper into me

(Different song every night)
Now I would be remissed if I did not mention the "get happy" joint, If I Was a King. In first hearing the groove of the song, it may tickle your thoughts to that of Stevie Wonder especially when Allo's vocals become more aggressive in certain parts of the song. Again, the horns in this track will make you enthusiastic with an infectious spirit of music and make you secretly wish you were part of the Bourbon Street inspired jam session celebrating the love of the king and his lovely queen.
In all honesty, this album is a joy to listen to from beginning to end – something that is rare to find in today's desolate industry of synthetics. The ingredients that bring flavor to Superconductor are the undeniable talent and artistry. When you hear Allo play, it breathes life; it has heart and stirs inspiration. The songwriting shapes your perspective and creates vivid imagery. Her voice can carry a whispery texture that will draw you close and at the same time can be blissfully haunting. If I could create a term for her tone, it would be "seductive innocence". It's that synthesis that pulls you in with reckless abandon.  After hearing this project, I can truly say I'm glad I had the opportunity "to be loved by Superconductor – every song a perfect symphony".
To hear this album for yourself, pick up your copy on Amazon, iTunes or visit her website at www.alloevolution.com
-Review by Hope West aka WestStyle Chronicles
Hope West is a music enthusiast and music photographer who has captured artists like B.B. King, Janet Jackson, Teddy Riley and many others.  A life long lover of music, Hope is a graduate of Full Sail University where she studied music engineering. She's also a proud "Florida Girl" born and raised in Ft. Lauderdale, Fl. and currently resides in Atlanta, GA as a "Georgia Peach". Hope is known for her creativity, sense of humor and quirky perfectionism. Artist(s) that make her freak out as a music fan: Sheila E., Jimmy Jam & Terry Lewis, Quincy Jones.