#SoulfulSaturday chops it up with R&B Legend, Freddie Jackson.
#SoulfulSaturday is in the books, this week. GFM had the pleasure of having a live chat with one of the best, of the best. This crooner has created classics such as "Tasty Love", "Jam Tonight", "You Are My Lady", "Have You Ever Loved Somebody", and many more. Good grief, I could go all day! R&B legend Freddie Jackson chopped it up with Grown Folks Music about his new album entitled Love Signals, his inspiring lifestyle change, new music, Grown Folks Music, and more. Press play, and check out our live chat with the R&B/Soul Legend 👇🎶!
Also #Growns, check out Mr. Jackson's full album Love Signals below on Spotify, and on all your other streaming services.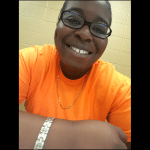 Mattie Brown is a Music Journalist, specializing in reporting and producing content for the R&B genre. Residing in Decatur, GA she obtained her A.A in Journalism from Georgia State University-Perimeter College. Mattie has always had a passion for writing, designing and editing. While pursuing her B.A at Clayton State University, her musical passion took her to new heights. "My love for R&B has kind of outweighed everything", she states. She has truly taken her craft and used it to her full advantage. Mattie joined the team of Grown Folks Music in the summer of 2017 as their Music Journalist and is continuing to pursue her education.