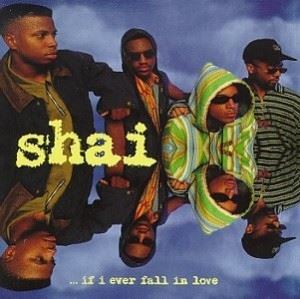 If you were in a male group back in the day you knew [no] audition was complete without your own rendition of "If I ever fall in Love". (Remember it had to be acapella AND you had to hit the infamous "my friend" falsetto note at the end).
That song put Shai on the map in the early 90's and instantly became a popular dedication song after any break up. While attending Howard University the r&b quartet was formed and soon after "If I ever fall in love" hit the airwaves, they were signed to Gasoline Alley/MCA records.
Other singles from their double-platinum debut album, "Baby I'm yours" and "Comforter" managed to top the charts as well.
Between 1994 and 1999, Shai went on to deliver two more projects "Right back at Cha" and the group's final c.d. "Destiny", which was recorded without original member, Carl Martin.
I've looked for these guys on the "Where are they now" type shows, but, you guessed it; no one knows.
But, GFM wants to know, where are you? You are missed.

Shai – If I Ever Fall In Love