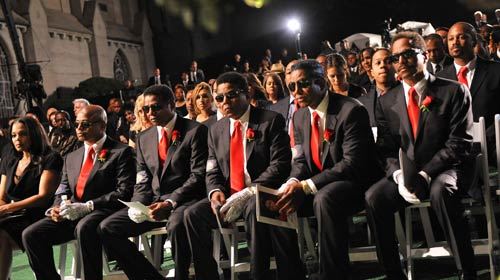 Image and story source: LA Times
An insightful, new personal interview with friend and director Brett Ratner has been released, check it out below (Part 2 after the jump).
By Carla Hall and Chris Lee
In a tree-lined clearing of Forest Lawn Memorial-Park in Glendale, about 200 of Michael Jackson's family and friends gathered for the final leg of the pop singer's odyssey from death to interment on a hot Thursday evening exactly 10 weeks after he was found dead.
The service, scheduled for sunset, became a nighttime gathering as guests awaited the late arrival of Jackson's family. They were ferried through the park's towering gates in a fleet of luxury cars and took their places in the front row of white folding chairs.
The Jackson brothers, in black suits and red ties, filed past a portrait of Michael, a confident smile on his face. His children made their way to their seats. A bespectacled Paris Jackson, his young daughter, wearing a dark dress and her long hair pulled back in a ponytail, watched soberly.
Jackson's children placed a crown on their father's coffin — a nod to his moniker, the King of Pop. Gladys Knight sang the gospel hymn "His Eye is on the Sparrow" and songwriter Clifton Davis sang a tune he penned for the Jackson 5 that became one of their signature songs — "Never Can Say Goodbye."
Among the mourners were many of the touchstones of his life: Elizabeth Taylor, who arrived in a Maybach; former child star Macaulay Culkin; lawyer Thomas A. Mesereau Jr., who successfully defended Jackson from child molestation charges; and choreographer-director Kenny Ortega, who was directing Jackson's planned London concerts. The Rev. Jesse Jackson, the Rev. Al Sharpton, Marlon Brando's son Miko and comic Chris Tucker were also there.
Music producer Quincy Jones, Motown Records founder Berry Gordy, and veteran music industry executive Suzanne de Passe, who were all profoundly involved in Jackson's professional development, also attended, as did Lisa Marie Presley, one of Jackson's former wives.
The Glendale police established a security cordon, blocking off streets around the 300-acre cemetery and relegating the sprinkling of fans who showed up to positions behind barricades a couple of blocks away. A dozen fans held up a banner reading "King of Pop Michael Jackson Gone Too Soon."
Police said no arrests were made in relation to the private service, which was not televised.
Several people were apprehended earlier in the day attempting to scale the park's walls. They were detained but not arrested.
Shortly before 10 p.m., with his brothers acting as pallbearers, Jackson's casket was carried into the Holly Terrace for the crypt-side finale.
The Holly Terrace is one of 11 halls in the Great Mausoleum, Forest Lawn's vast granite- and marble-filled palazzo that serves as the star-studded resting place of Clark Gable, Jean Harlow and other screen legends. The Holly Terrace is dominated at one end by an expansive stained-glass window.
In keeping with Jackson's taste for the rococo, the cemetery in general is an expanse of elaborate statuary and architecture.
The Jackson estate is footing the bill for the service, which was called "extraordinary" by an estate lawyer but worth paying. At least $125,000 covers the Glendale Police Department's and the city of Glendale's expenses — and that's just a fraction of the cost. The bulk of it goes to Forest Lawn.
Jackson fans who believe they can find Jackson's above-ground crypt in the expanses of the Great Mausoleum should rethink that, according to Forest Lawn officials.
"The Great Mausoleum itself is primarily restricted to family members," said William Martin, communications manager for Forest Lawn. "So when you come in, you're asked who you are coming to visit." Also, he added, there are many cameras on the premises.
carla.hall@latimes.com
R.I.P. Michael Jackson