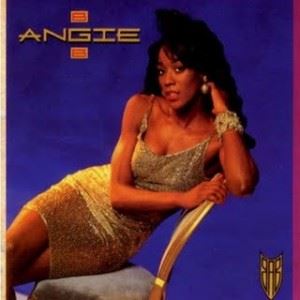 Back when MC Hammer was making major moves on stage he was also making moves signing unforgettable talent. Discovered by music producer James Early, this Mississippi mocha was introduced to "Hammer" and soon became a backup singer for the fleet-footed rapper/dancer, while on tour. She was also featured on Hammer's song "Pump it Up" off his freshman album, "Let's Get It Started" (re-released on Capitol Records in 1988).
In 1989, B Angie B became an addition to one of my ALL time favorite female groups, Oaktown's 3.5.7 (p.s. I'm lookin' for yall too). Her first appearance was in the "Juicy Gotcha Krazy" video; rump shakin' and sangin' at the same time.
Two years later Ms. Angela Boyd aka B Angie B was signed to Hammer's label "Bust It" and put out her self-entitled solo project. A few songs were released off the album like "So much Love", two remakes; "Sweet thing" by Rufus and Chaka Khan and her version of The Emotions "I Don't Wanna Lose Your Love" which actually peaked at #2 on the Billboard Top 100.

But the chart topping single wasn't enough to keep "Angie" on the label. Capitol Records later dropped B Angie B off the roster and the gospel influenced vocalist still went on to focus on her music career.
In 1992 B Angie B loaned her vocals to the soundtracks for rap duo Kid & Play's movie "Class Act" and a few years later (1995) she released another album independently distributed under the "Bust It" label; this time with a new aka "Angie B". Unfortunately that album didn't make the charts or get any radio play.
Last I heard "The Queen of Dance" was living in Atlanta with her daughter, from her marriage to James Early, and she now has a son. Prior to the completion of this GFM-All Points Bulletin I actually found her on MySpace but, per the people, WE WANT MORE…
And, GFM wants to know, where are you? You are missed.
If you got the info, then lets u know!
contact [at] grownfolksmusic [dot] com.
KayBee (ItiZwutiTizZ)